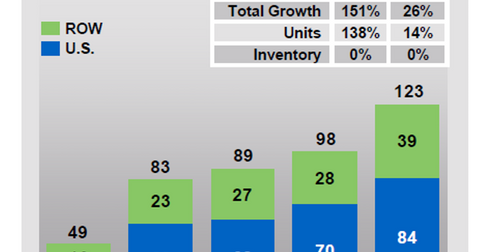 Amgen Focused on Advancing Repatha and Biosimilar in 2018
By Margaret Patrick

Updated
Repatha's growth trends
In the first quarter, Repatha reported revenues of $123 million, a YoY (year-over-year) growth of 151%, mainly driven by an increase in sales volumes. Although a global leader in the PCSK9 (proprotein convertase subtilsin-kexin type 9) inhibitor segment and ahead of Sanofi's (SNY) and Regeneron's (REGN) Praluent, Amgen (AMGN) is focused on increasing Repatha's awareness. That involves communicating the results from FOURIER, its outcomes study, which demonstrated a 27% reduction in the risk of heart attack and a 21% fall in the risk of stroke in patients treated with Repatha added to an optimized statin therapy.
With improving utilization trends as well as the addition of PCSK9 inhibitors to the evolving disease management guidelines, Amgen saw increasing prescription fulfillment rates for Repatha in the first quarter. The company has also seen improved payer access for Repatha since 2017.
Amgen is also negotiating several payer discounts for Repatha based on the drug's robust clinical profile. Since it's the only FDA-approved PCSK9 inhibitor for preventing heart attacks and strokes in atherosclerotic cardiovascular disease, Amgen aims to highlight the overall societal benefit of the drug to the payer community.
Amgen has also demonstrated that reducing LDL-C (low-density lipoprotein-cholesterol) levels with Repatha results in the best clinical outcomes for cardiovascular patients. The company expects to see the addition of the FOURIER outcomes study data to Repatha's label in multiple markets around the world.
Biosimilar growth trends
Year-to-date, Amgen has already secured regulatory approvals for some of its major biosimilar drugs, including Amgevita, the biosimilar version of AbbVie's (ABBV) Humira, and Mvasi, the biosimilar version of Roche Holdings' Avastin. The company plans to launch Amgevita in international markets by the end of 2018. Amgen is awaiting FDA approval for Kanjinti, the biosimilar version of Roche Holdings' (RHHBY) Herceptin.