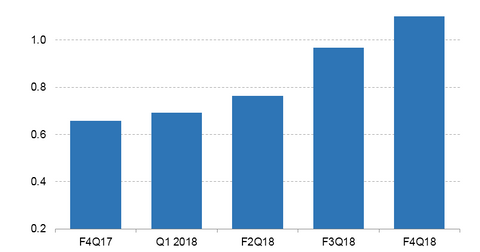 Alibaba Turns to Drivers to Popularize Its Voice Agent
By Neha Gupta

Updated
Mercedes and Volvos to get AliGenie support
Alibaba (BABA) has partnered to put its digital voice agent into several luxury car brands in China as it works to popularize the technology. Alibaba entered the market for voice agents only a year ago, and it is trying to catch up to Amazon (AMZN), Alphabet's (GOOGL) Google, and Microsoft (MSFT), who have been offering digital voice assistants for years.
Partnerships with Daimler, Volkswagen, and Zhejiang Geely could see Mercedes-Benz, Audi, and Volvo vehicles sold in China come with Alibaba's AliGenie voice agent support. The support would allow drivers to connect with their Tmall Genie smart speaker at home to do things such as checking fuel levels, mileage, and battery status using voice controls.
Article continues below advertisement
Alibaba eyeing affluent customers with AliGenie auto collaboration
China is the world's largest car market, and Mercedes-Benz, Audi, and Volvo are among the most popular luxury car brands in the country. Therefore, partnerships with Daimler, Volkswagen, and Zhejiang could help Alibaba present its voice agent to more affluent customers.
Alibaba lines up $15 billion research budget
Bringing the AliGenie voice agent to cars is part of Alibaba's efforts to advance technological collaboration through investments in areas such as AI, the Internet-of-Things, and other emerging technologies. These efforts could see Alibaba spend $15 billion on R&D (research and development) initiatives over the next three years. Alibaba spent $1.1 billion on R&D in its fiscal fourth quarter (ended in March), while Baidu (BIDU) spent $525 million on R&D and JD.com (JD) spent $400 million.