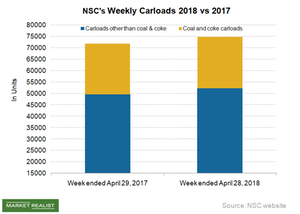 A Summary of Norfolk Southern's Rail Traffic in Week 17
NSC's carload volumes in Week 17
In Week 17 of 2018, US rail carrier Norfolk Southern's (NSC) carload traffic grew 4.2% YoY (year-over-year). In that week, its rail traffic grew YoY from ~71,800 units to ~74,800.
Norfolk Southern's rival in the eastern United States, CSX (CSX) reported relatively more carload traffic growth than NSC in Week 17 of 2018. NSC's traffic growth has been consistently higher than CSX's traffic this year, but CSX's 4.8% growth exceeded than that of NSC's growth. In Week 17, NSC's carload traffic expanded more than US railroads' (GWR) traffic 3.7% growth.
In Week 17, excluding coal and coke (BTU), other carloads saw a 5.2% rise in traffic. From 49,600 carloads in Week 17 last year, Norfolk Southern moved ~52,200 carloads in 2018. Coal and coke carloads rose 1.9% to ~22,600 units from ~22,200 in 2017.
Article continues below advertisement
Changes in NSC's carload commodity groups
The following commodity shipments were up in Week 17:
chemicals
grain mill products
grain
pulp, paper, and allied products
stone, clay, and glass products
The following commodity shipments declined in Week 17:
crushed stone, sand, and gravel
lumber and wood products
metals and products
petroleum products
Intermodal volumes in Week 17
On par with the US railroads' intermodal volumes growth, Norfolk Southern recorded 8.5% gains in intermodal traffic in Week 17 of 2018. In comparison, CSX recorded gains of 3.8%. Norfolk Southern's container volumes grew 6.9% YoY to more than 76,000 units from ~71,200 in 2017. Trailer traffic rose 25.7% YoY to ~8,400 trailers from ~6,700 in 2017. Norfolk Southern's overall rail traffic gained 2.9%, slightly less than the US railroads' (XLI) 3.2% gains.
In the next article, we'll deal with CSX's railcar traffic.