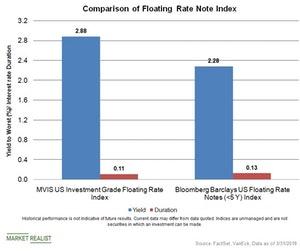 A Look at the Credit Quality of Floating Rate Notes
By VanEck

May. 31 2018, Updated 1:35 p.m. ET
VanEck
Floating rate notes offer investment grade credit quality (i.e., BBB-rated and above), but with far less interest rate duration than traditional fixed-income investments. Targeting corporate floating rate notes and longer average maturity notes may offer greater yield potential. Investors may use such an allocation to either enhance their cash positions or to meaningfully de-risk their portfolios from equity or below-investment grade credit exposures when market volatility becomes less favorable.
Investors can gain exposure to FRNs through VanEck Vectors® Investment Grade Floating Rate Note ETF (FLTR®).
Article continues below advertisement
Market Realist
Why FRNs gained popularity
We are in a period of rising interest rates. During this time, floating rate notes (or FRN) are attracting attention, as they offer higher yield compared to other short-term investments. The flexibility that the coupon reset mechanism of FRNs offers makes them less vulnerable to steep price drops when rates rise compared to fixed-rate bonds.
Often US-FRNs are offered by corporates that are rated below investment grade, thus carrying some credit risk. In the last few years, the US Treasury began issuing FRNs that were backed by the full faith and credit of the US government. An article by Invesco recently mentioned that over the years, floating rate notes in the US have gained popularity and "grown in size, breadth, and depth" to provide investors with a range of investment options. Investors have a choice now to choose FRNs in senior secured bank loans, preferred securities, and even in the securitized markets, which include asset-backed securities and mortgage-backed securities.
Investors looking for credit quality can consider the MVIS US Investment Grade Floating Rate Index, which tracks the performance of US-investment grade floating rate notes. The floating rate notes included in this index are issued by corporate or public reporting companies in the US. These companies have at least one investment-grade rating from Moody's, S&P, or Fitch. The chart below shows the yield and the duration offered by the index.
Article continues below advertisement
The index maintains near-zero duration and offers a higher yield compared to its counterparts. Over the years, the index has generated higher total returns as well, as the chart below shows. The index also has less exposure to commodity-sensitive sectors like the energy (OIH) (FRAK) and metals and mining (REMX) sectors, thus limiting the potential impact on the investment from these sectors. The VanEck Vectors Investment Grade Floating Rate Note ETF (FLTR) tracks the performance of the index.
As we discussed in this series, increasing interest rates have always been a headwind for fixed income instruments. Thus, in times of rising rates, investment grade floating rate notes protect investors from interest rate changes while offering a potentially higher yield. FRNs also allow investors to diversify their portfolio as they have low correlations with the stock (SPY) and bond market, which raises the prospect for higher income for investors when interest rates rise. That said, FRNs carry risks like any other fixed-income instruments. Investors should be cautious before making any investment decisions.