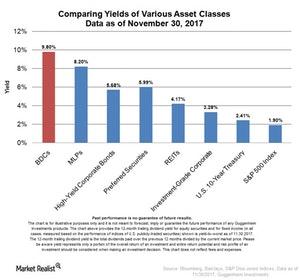 A Look at Business Development Companies as an Asset Class
By VanEck

May. 9 2018, Updated 11:20 a.m. ET
VanEck
A third consideration that combines the credit exposure with floating rate exposure is business development companies. That's an equity-like asset class. In fact, BDCs trade as equities so they can be somewhat volatile, or at least as volatile as the equity markets are in general. However, these are companies that lend to middle-market borrowers in the U.S. Most of their exposure on those loans is floating rate. It is also senior secured. It is, however, below investment grade. So for investors who like that sort of levered loan asset class, this is an alternative way of getting exposure, a way of diversifying. Business development companies operate under certain sets of rules, some of which have changed recently in their favor. They will be able to obtain slightly more leverage, legally going from 1x levered to 2x levered, though they will tend to stay probably somewhere between 1.4x and 1.6x. It is a high carry asset class; this will enable it to be an even higher carry asset class.
 SOKOL: Thank you, Fran, for sharing your outlook and perspective today.
RODILOSSO: Thank you, Bill.
SOKOL: If you would like to learn more, please visit our website at www.vaneck.com where you can subscribe to receive additional insights from Fran, and other VanEck thought leaders.
Article continues below advertisement
Market Realist
Why are BDCs attractive for yield-seeking investors?
Investors are focusing on alternative sources of income to the traditional stock-and-bond portfolio. While finding attractive sources of income is challenging, BDCs (BIZD), or business development companies, are an asset class that provides opportunities to earn attractive income.
BDCs are closed-end investment firms that invest and help small- and medium-sized companies that are either financially troubled or growing. The shares of these companies trade like any other shares. The plus side of this asset class is that it gives investors exposure to both debt (IHY)(EMB) and equity (IVV)(SPY) investments. BDC investments are required to distribute 90% of their profits to shareholders, so they generate above-average dividend yields and attractive incomes, as the chart above shows. Occasionally, these investments also help investors diversify their portfolio with some securities that generate different returns from stocks and bonds that are part of the capital structure of the company they invest in.
BDCs provide floating-rate loans to client companies and generate high income and capital appreciation when rates rise, making them attractive for yield-seeking investors. Nevertheless, since these firms support financially challenged companies and the debt securities are below investment-grade, BDCs carry some risk as well. It's important for investors to be thorough with the risks each asset class carries before making any decisions.