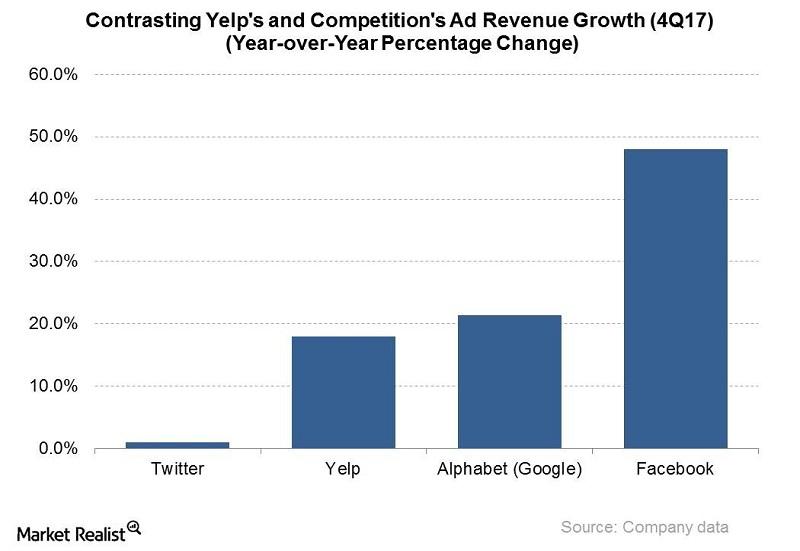 Yelp Observes Changes in Restaurant Industry
By Neha Gupta

Nov. 20 2020, Updated 1:38 p.m. ET
Sky-high rent inhibiting small business growth in San Jose
In its latest economic outlook report, Yelp (YELP) stated that Charleston, South Carolina, recorded the fastest increase in the number of local businesses in 4Q17. Local business growth was slowest in San Jose, California, with high rents cited as one of the city's growth inhibitors. In addition to looking at local business growth, Yelp took a closer look at the health of the restaurant industry and revealed a number of notable shifts.
Article continues below advertisement
Consumer confidence in non-chain restaurants on the rise
The first notable shift observed was that consumer perception toward independent restaurants has changed significantly, with consumers becoming more confident in non-chain restaurants. The arrival of online review sites, such as Yelp, is said to be behind the improved consumer confidence in independent restaurants. As a result of consumers becoming more confident in non-chain restaurants, Yelp noted that there has been a tremendous increase in the number of independent restaurants over the last five years.
The second major shift revealed in Yelp's study was that chain restaurants' ratings are dipping while independent restaurants' ratings are rising. The latter's ratings have jumped about 7.0% in the last five years.
Restaurants form a priority category for Yelp
Yelp is going to focus on the restaurant category in 2018, as disclosed by chief financial officer Lanny Baker during the company's 4Q17 results announcement. Given Yelp's business, if independent restaurants flourish, it will likely flourish with them. A healthy independent restaurant market could drive uptake of Yelp's advertising services and table reservation products.
However, a booming independent restaurant market wouldn't only help Yelp. E-commerce operators Amazon (AMZN) and Groupon (GRPN) and social media companies Facebook (FB), Twitter (TWTR), and Google (GOOGL) are all doing something to woo local businesses. Facebook outpaced Yelp in advertising revenue growth in 4Q17.