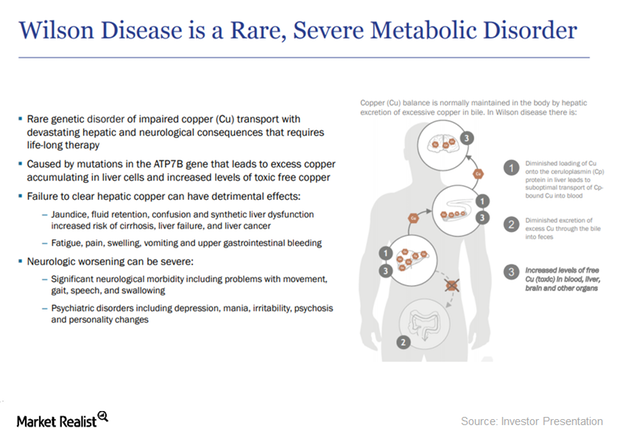 Wilson Disease: A Market Opportunity for Alexion
By Sarah Collins

Nov. 20 2020, Updated 5:23 p.m. ET
Wilson disease
On April 11, 2018, Alexion Pharmaceuticals (ALXN) announced the acquisition of Wilson Therapeutics. Wilson Therapeutics is developing a drug to treat Wilson disease. Wilson disease is a rare genetic disorder that's potentially life-threatening. The disease leads to an accumulation of copper in patients' vital organs, which can cause serious liver and neurological defects.
Article continues below advertisement
Wilson disease and related symptoms
Mutations in the ATP7B gene cause the deposit of excess copper in liver cells. The copper buildup in a patient's liver can lead to conditions like jaundice, cirrhosis, fluid retention, liver failure, and liver cancer. The disease symptoms include fatigue, vomiting, swelling, pain, and upper gastrointestinal bleeding. If there's copper buildup in the central nervous system, patients might experience irreversible neurological disorders and significant neurological morbidity, speech problems, difficulty with movement and swallowing, and psychiatric disorders including depression, personality changes, and psychosis.
Market opportunity
So far, Wilson disease awareness is limited. Alexion thinks that its expertise with awareness and education programs will help improve awareness about Wilson disease and lead to an improved treatment paradigm.
The current treatment options include Penicillamine and Trientine, which take around six months to control serum copper. The drugs take years to improve patients' symptoms. The drugs are associated with multiple debilitating side effects and can make neurological issues worse, which can be irreversible.
Check out all the data we have added to our quote pages. Now you can get a valuation snapshot, earnings and revenue estimates, and historical data as well as dividend info. Take a look!