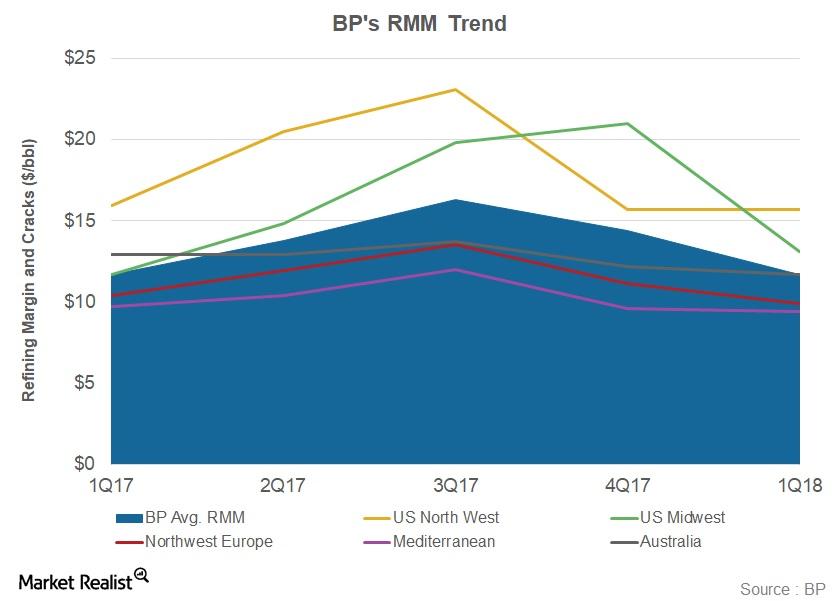 Will BP's Downstream Earnings Sway in 1Q18?
By Maitali Ramkumar

Apr. 26 2018, Updated 1:25 p.m. ET
BP's downstream earnings
In the previous part, we discussed BP's (BP) upstream earnings outlook, which hinted at a YoY (year-over-year) rise in 1Q18. Now, let's look at how BP's downstream earnings might shape up in 1Q18.
BP's downstream earnings depend on refining margins, which are influenced by regional refining cracks. Regional refining cracks where BP's refineries are located include the USNW (US North West), USMW (US Midwest), the NWE (Northwest Europe), the Med (Mediterranean), and Australia.
Article continues below advertisement
BP calculates the RMM (refining marker margin). According to BP, the RMM is "the average of regional indicator margins weighted for BP's crude refining capacity in each region. Each regional marker margin is based on product yields and a marker crude oil deemed appropriate for the region. The regional indicator margins may not be representative of the margins achieved by BP in any period because of BP's particular refinery configurations and crude and product slate."
RMM trend in 1Q18
In 1Q18, BP's RMM declined quarter-over-quarter and stayed flat YoY. According to BP, a shift by $1 per barrel in its RMM shifts its pre-tax replacement cost operating profit by $500 million annually.
BP's RMM was flat at $11.7 per barrel in 1Q18—compared to 1Q17. However, BP's RMM declined from $14.4 per barrel in 4Q17.
The YoY stableness in BP's RMM was due to the mixed trend observed among its regional refining cracks. The USMW region observed a rise in its cracks by 12% YoY to $13.1 per barrel in 1Q18. The highest fall was seen by Australia, which fell 9% YoY to $11.7 per barrel. The Med, NEW, and USNW also witnessed a YoY fall in cracks. In absolute terms, the USNW crack was highest among the regional cracks being considered here.
Assuming that the refining throughput is constant, BP's refining earnings should stay stable YoY in 1Q18, as indicated by the flat RMM.