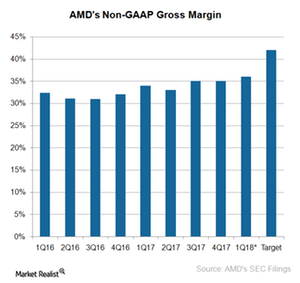 Will AMD Achieve Its Gross Margin Target in 2018?
By Puja Tayal

Apr. 17 2018, Updated 7:32 a.m. ET
AMD's profitability
Advanced Micro Devices (AMD) is looking to improve its profitability in 2018 by focusing on premium and professional products that earn higher margins. The company has already launched its Ryzen Pro APUs (accelerated processing unit) and Ryzen Mobile APUs.
Dell has launched consumer notebook families powered by AMD Ryzen Mobile APUs under the high-end range of $600–$1,000, indicating that PC (personal computer) OEMs (original equipment manufacturer) are confident that high-end consumers will prefer AMD's processors. AMD's 1Q18 earnings will determine whether it's succeeded in making its mark in the premium PC markets.
Article continues below advertisement
1Q18 gross margin
On its 2017 investor day, AMD stated that it would expand its non-GAAP (generally accepted accounting principles) gross margin from 31% in 2016 to ~36% in 2018. So far, the company is on track to achieve its target. It improved its gross margin to 34% in 2017 by increasing its ASP (average selling price) and reducing its production costs through the ramp-up of its 14 nm (nanometer) node.
AMD's gross margin expansion of three percentage points in one year was higher than NVIDIA's (NVDA) an Intel's (INTC) gross margin expansions of one percentage point and 0.6 percentage points, respectively.
AMD's gross margin is almost half of NVIDIA's and Intel's gross margins of over 60%. The reason for this gap is AMD's previous absence in the premium market, where all the profit lies. Now, that AMD has entered this premium market, it expects its 1Q18 gross margin to expand to 36% and its 2018 gross margin to be over 36%, more than its target gross margin.
How does AMD plan to achieve its gross margin target?
There are only three ways to increase margins: increase ASP, increase unit volume, or reduce costs. AMD plans to do all three. The company will launch a range of products in the server, professional graphics, and enterprise markets, in which volumes are low but ASP is high. It will also launch a range of mid- and low-end products and reduce the prices of its first-generation Ryzen products to achieve higher volumes.
It will also try to shift its product mix more toward premium products, especially its high-end EPYC server CPUs, in order to increase its overall ASP. In 4Q17, AMD's new high-end products Ryzen, EPYC, and Vega accounted for ~33% of its revenue.
AMD will also focus on reducing costs by transitioning to lower nodes that bring cost, power, and performance benefits. The company will transition to its 12 nm node with its Zen+ architecture in mid-2018 and to its 7 nm node with its Zen 2 architecture in 2019.
In an interview with Anandtech, AMD's CEO, Dr. Lisa Su, stated that the company would use both TSMC (TSM) and GlobalFoundries for its 7 nm product ramp-up. It would allocate different product lines to each foundry.
Next, we'll look at AMD's operating efficiency.