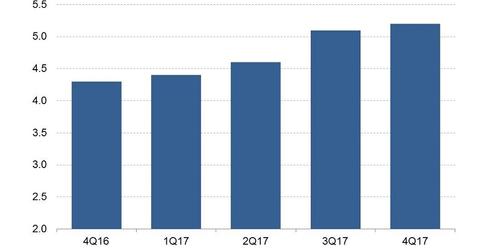 Why Yelp Has Opened an Office in Washington, DC
By Neha Gupta

Updated
Yelp operates offices in London and Hamburg
Back in August 2017, Yelp (YELP) disclosed a plan to set up an office in Washington, DC. It has made good on that promise, and DC is now home to Yelp's sixth domestic office.
Yelp already runs offices in San Francisco, Chicago, New York, and Arizona. Overseas, Yelp operates offices in London and Hamburg, Germany. 
Article continues below advertisement
Yelp is after talent
Yelp's decision to open an office in DC was driven by its pursuit of talent. The company views DC as a pool of talented, diverse candidates who could help it achieve its goals. Yelp is looking to drive revenue growth, and to do this, it is working to create products and features that could draw more consumers to its site and encourage marketers to spend more of their advertising funds.
Yelp currently employees 80 people at its DC office, according to Washington Business Journal. The company is aiming to create 500 jobs, mostly in sales and marketing, at its DC location. Yelp had 5,200 workers at the end of 4Q17.
Competition for talent among tech companies
From Amazon (AMZN) to Facebook (FB) and Google (GOOGL), technology companies are upgrading and tweaking their workspace settings to appeal to young talent amid tight competition for top-notch skills. Earlier this year, Amazon opened an adventurous office space called Amazon Spheres on its Seattle campus. Last year, Microsoft (MSFT) unveiled plans to modernize its Redmond campus as it seeks to attract young talent. In addition to a source of talent, DC is part of Yelp's strategy to expand into the Southeast.