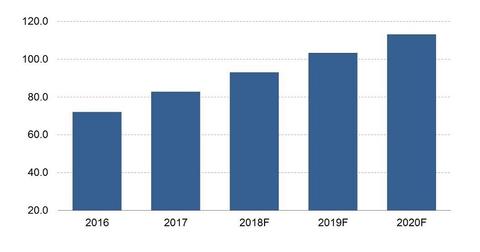 Why Verizon May Close Some Components of Oath
By Ruchi Gupta

Apr. 18 2018, Updated 11:10 a.m. ET
Oath seems interested in the best of AOL and Yahoo
Verizon's (VZ) Oath is eliminating some components of its ad-tech (advertising technology) arm, as reported by Business Insider. The components being phased out include One TV and Convertro, the report said.
The pruning at Oath is viewed as part of Verizon's process of sorting out AOL and Yahoo assets so it can keep the best of both companies. Verizon acquired AOL and Yahoo two years apart and spent nearly $10.0 billion on these deals.
Article continues below advertisement
Dropping redundant technologies
Although AOL and Yahoo brought with them a portfolio of assets that included advertising technology, some of those assets may no longer fit the strategy Verizon is pursuing with Oath. Therefore, this corporate trimming is expected to eliminate redundant or non-core assets. The report added that layoffs could follow after Oath decides which components it wants to keep or jettison.
The battle for digital ad dollars
In order to compete effectively with digital advertising giants Google and Facebook (FB), Oath's aim is to create what its spokeswoman described to Business Insider as a "powerful integrated, open, and transparent ad tech stack."
Revenues increased 24.0% YoY (year-over-year) at Alphabet (GOOGL) in 4Q17. Facebook's revenues increased 47.0% YoY in 4Q17. Verizon reported 5.0% YoY revenue growth in 4Q17, compared to revenue growth of 5.1% YoY at T-Mobile (TMUS). AT&T's (T) revenues declined about 0.23% YoY in 4Q17.
Marketers spent $82.9 billion on digital ads in the US in 2017, according to eMarketer.