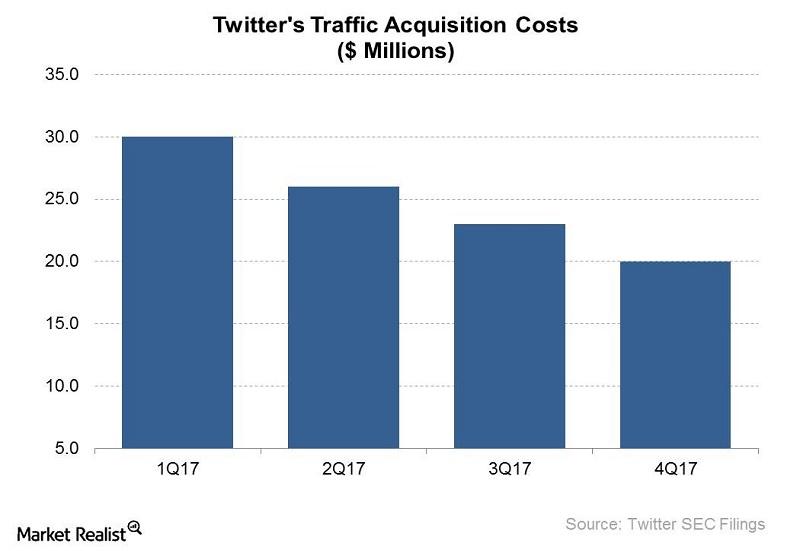 Why Twitter Might Want to Build a Snapchat Clone
By Neha Gupta

Apr. 20 2018, Updated 9:00 a.m. ET
Twitter developing Snapchat-style product
Twitter (TWTR) is scheduled to report its 1Q18 results amid rumors of the company secretly building a product that mimics Snapchat. According to a recent CNBC article, Twitter has already developed a working demo of its Snapchat clone, and it has been showing off the product to its advertising partners.
Facebook (FB) has copied several Snapchat features that have become popular on its digital properties such as WhatsApp and Instagram. So Twitter wouldn't be the only one duplicating Snapchat features. But why would Twitter be interested in creating a Snapchat-like product?
Article continues below advertisement
Simplifying Twitter
Snap's (SNAP) Snapchat is a camera-centric social media app. In fact, Snap describes itself as a camera company rather than a social media company. Snapchat's camera-centric nature makes it easier for users of the app to capture and share photos and videos.
Some people believe that perhaps a Snapchat-style product could go a long way to demystify Twitter. They've given Twitter's social media platform a wide berth because they think the service is complicated. A few years ago, it was reported that more than 500 million people toured Twitter's social media site every month and then left the site without logging in. The huge never-logged-in audience appeared to highlight how some people felt Twitter was too complicated to understand and use.
Twitter could be looking to a camera-centric product such as Snapchat to reduce the number of steps needed to post a picture or video to its platform.
Boosting content library
Amazon (AMZN) and Netflix (NFLX) are spending a lot on video acquisitions. Facebook and Google (GOOGL) are also willing to part with billions of dollars for high-quality videos. Video content acquisitions cost big money. A camera-centric product could increase the supply of free videos on Twitter's platform, which could go a long way toward helping the company control its traffic and content acquisition expenses.