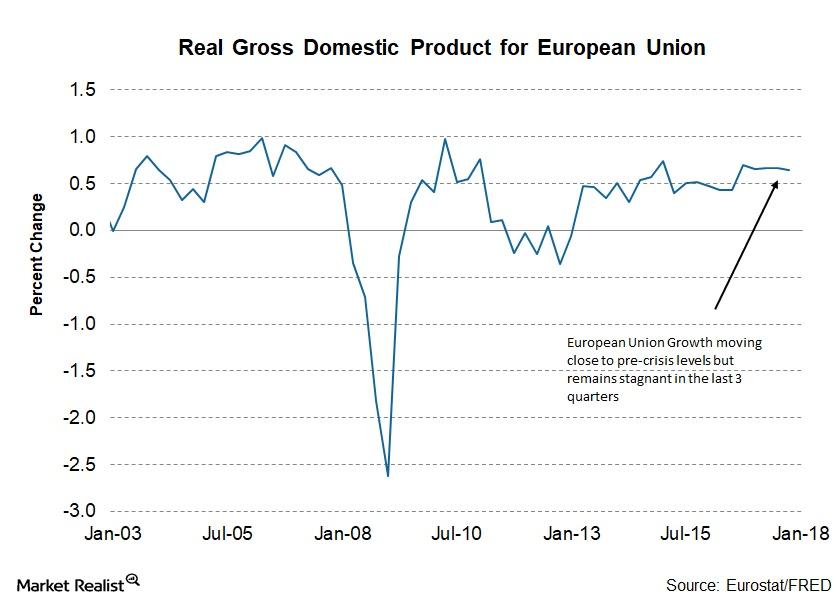 Why the European Central Bank Is Optimistic about Growth
Optimistic about growth
At its April 26 meeting, the ECB's (European Central Bank) governing council sounded optimistic about the European Union's growth momentum. Speaking at a press conference after the meeting, ECB president Mario Draghi acknowledged evidence of a pullback in economic growth from the previous quarter, but maintained the view that economic growth in the Eurozone (HEDJ) will remain solid and broad-based.
Article continues below advertisement
Growth projections from the ECB
The Eurozone's real GDP (VGK) rose 0.7% in 4Q17, resulting in an average annual growth rate of 2.4% in 2017, the highest since 2007. At its March meeting, the ECB indicated that the European annual real GDP (EZU) could rise 2.4% in 2018, 1.9% in 2019, and 1.7% in 2020. These projections are set to be reviewed and updated at the June meeting, which could give a better idea of the ECB's policy path.
ECB remains optimistic as risks remain balanced
Whereas the ECB had many political uncertainties at the turn of the year, including elections in Italy (EWI) and Germany (EWG), those risks have subsided. In the bank's recent statement, uncertainties surrounding global trade were considered primary risk factors for future economic growth. In the next part of this series, we'll discuss the ECB's outlook on European inflation.