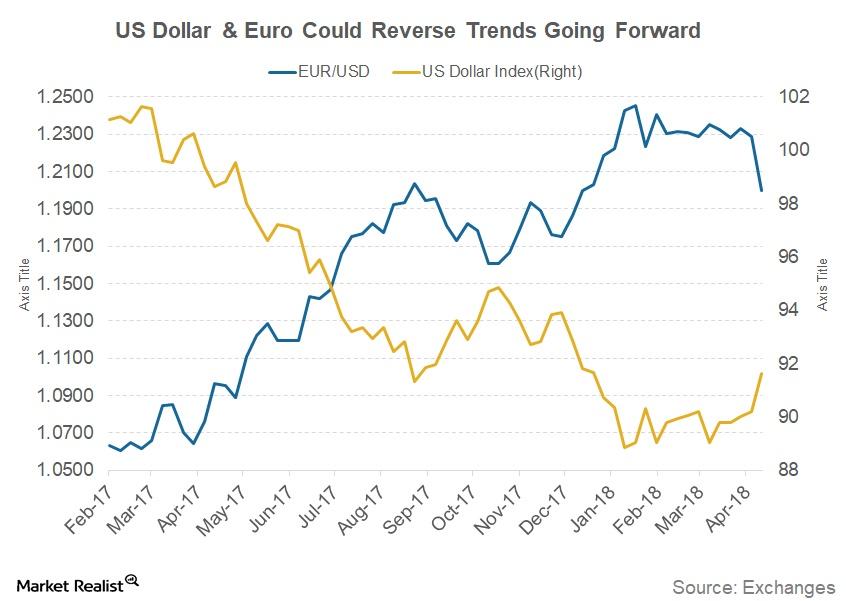 Why the Euro Slid despite the European Central Bank's Optimism
Euro depreciates after European Central Bank statement
The ECB (European Central Bank) left its policy unchanged at its April meeting, squashing any hopes for tightening in the near term. In response to the ECB's post-meeting statement, the euro-US dollar exchange rate edged lower and tested lows last seen in January. This reaction was surprising, as the ECB had indicated that it was optimistic about the economy. Whereas the euro (FXE) appreciated by ~13.4% against the dollar (UUP) in 2017, the dollar's recent upturn could limit euro (EUO) gains.
Article continues below advertisement
Analyzing the euro's reaction
While the euro's initial reaction was positive, the lack of any strong guidance on tightening led to the currency falling. The euro (DRR) was also driven lower by the US dollar (USDU), which continued to appreciate due to higher US bond yields. The European bond market may also have driven the euro down, with German yields falling more than US yields.
The euro's outlook after the ECB's statement
Given the recent turn of events in currency markets, the US dollar now sits in a commanding position after a hiatus of many months. The Fed is expected to continue tightening, and ECB is expected to increase rates only in 2019, which may favor the US dollar in future months. Considering the current economic conditions and expectations, the euro's upside may be capped, and the currency could see further depreciation.