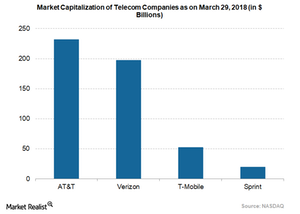 Why T-Mobile Continues to Test in 3.5 GHz CBRS Band
By Sophia Nicholson

Apr. 4 2018, Updated 4:20 p.m. ET
T-Mobile tests in Vegas
T-Mobile US (TMUS) recently submitted its Special Temporary Authority (or STA) request to the FCC (Federal Communications Commission) to extend its testing period in 3.5 GHz (gigahertz) equipment in Las Vegas. Nokia (NOK) and Ericsson (ERIC) will be the network equipment providers.
Article continues below advertisement
3.5 GHz frequency
In its STA request, T-Mobile wants to continue to test the 3,550–3,700 MHz (megahertz) frequency band in Vegas. It previously received FCC approval in Las Vegas, Dallas, and Richardson, Texas, to conduct 3.5 GHz tests, but that will expire on April 10, 2018. The company has requested a six-month extension starting on April 11 and ending on October 11.
T-Mobile US and its partners believe that through these tests, it will have a better understanding of the frequency band, its features, and services, and how it deals in different modes, whether outdoor or indoor.
The FCC is currently reviewing new rules for the 3.5 GHz CBRS (Citizens Broadband Radio Service) band, but the final guidelines from the FCC for the 3.5 GHz band have not arrived. The new rules on 3.5 GHz band will make 5G investment more favorable for carrier companies. The 3.5 GHz radio frequency is being considered in many parts of the world for the upcoming 5G wireless standard, raising the scope of providing spectrum globally.
Verizon (VZ) has also deployed low- and high-power small cells using the 3.5 GHz band. In December 2017, AT&T (T) requested the FCC to allow it to conduct a one-month 5G test on the 3.5 GHz frequency band using Ericsson's equipment inside a closed building in Washington, D.C.
T-Mobile's scale
As of March 29, 2018, T-Mobile's market capitalization was ~$52.2 billion, making it the third-largest US wireless player by market capitalization. In comparison, AT&T had a market capitalization of ~$231.6 billion. Verizon's market capitalization was ~$197.4 billion, and Sprint's was ~$19.5 billion.