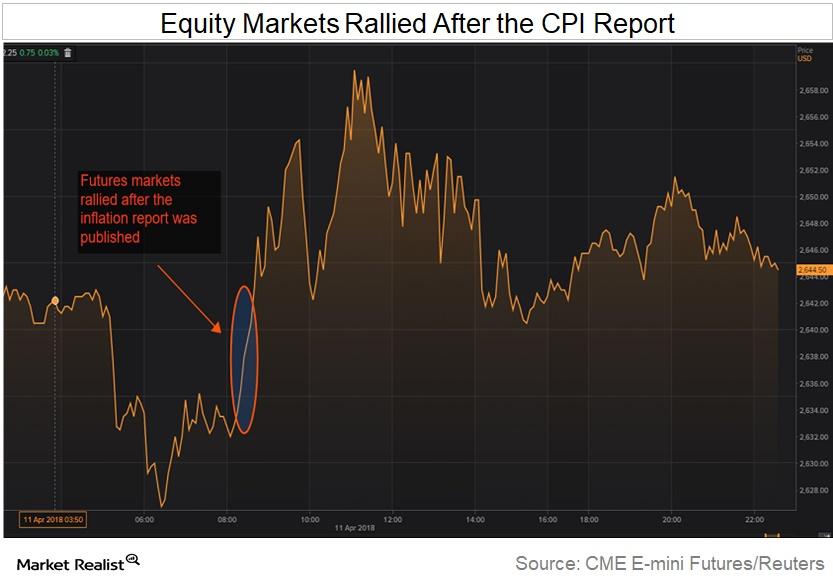 Why Rising Inflation Could Pose a Threat to Equity Markets
By Ricky Cove

Apr. 16 2018, Updated 3:05 p.m. ET
Inflation growth and the equity markets
On April 11, market participants expected a volatile session after the US inflation report, but, to their surprise, Donald Trump's tweet earlier in the day about Syria and missiles pushed markets lower. Had there not been any geopolitical tensions, the market reaction could have been negative despite the lower headline number. A faster pace of rate hikes from the Fed may have contributed to the market performance that day. The Fed has been increasing interest (SCHP) rates at a slower pace in the last two years despite employment picking up, citing low inflation as the reason for its slower pace. Once inflation (TDTT) picks up, the Fed could increase rates at a faster pace.
Article continues below advertisement
Why higher rates could hurt equity markets
The US business establishment has been enjoying low-interest rates for more than a decade, and a sudden increase in rates could dent profit margins. Large corporates who issue corporate bonds to fund their operations could be faced with investors demanding a higher yield for their investments in these corporate bonds, which would increase these companies' interest costs. Such a scenario could be negative for equity asset prices.
Could the Fed go ahead with faster rate hikes?
At the Fed's recent meeting, members sounded confident that US inflation (TIP) could reach 2% in the coming months. The current inflation and producer price index readings are pointing toward a faster inflation (VTIP) growth rate. This development leaves the window open for another rate hike in the next meeting, which is scheduled for June 12 and 13. If incoming data continues to show employment and inflation improvement, the chances for three more hikes in 2018 remain high, which could limit upside potential for equity markets.