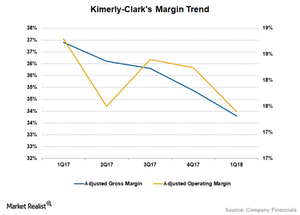 Why Kimberly-Clark's Gross Margins Fell Significantly in 1Q18
Cost pressure continues to hurt margins
The home and personal care product manufacturers in the US continue to disappoint with their margin performance. Significant inflation in commodities, promotional spending to drive volumes, lower net price realization, and a tough retail environment are taking a toll on the profit margins of the companies operating in this space.
Kimberly-Clark's (KMB) adjusted gross margin fell dramatically in 1Q18 to 33.8%, which reflects a YoY (year-over-year) decline of 310 basis points.
Higher pulp costs and inflation in other raw material costs and lower net price realization more than offset the benefits from its FORCE and restructuring initiatives aimed at lowering costs and driving efficiency.
In comparison, rival Procter & Gamble's (PG) gross margin decreased 110 basis points during the recently concluded quarter. Higher manufacturing costs and lower pricing adversely impacted Procter & Gamble's margins.
Meanwhile, analysts expect higher costs and pricing pressure to subdue the margins of Colgate-Palmolive (CL) and Clorox (CLX). However, Church & Dwight's (CHD) margins could benefit from improved mix and productivity savings.
Article continues below advertisement
Operating margin also decreased
Kimberly-Clark's adjusted operating margin fell 140 basis points to 17.4%, reflecting a lower gross margin. However, productivity savings, lower marketing, research and general spending, volume improvement, and favorable currency rates supported operating margins.
Going forward, Kimberly-Clark plans to generate $400 million in cost savings in 2018 from its FORCE program. Meanwhile, it also plans to save $50 million–$70 million in costs through its global restructuring program, which should support its margins.
The company plans to exit low-margin businesses, reduce workforce, and close or sell its ten manufacturing facilities to lower costs and drive efficiency. Also, benefits from currency rates and improved pricing in international markets are further expected to support margins growth.
However, promotional spending to drive volumes and inflation in commodities are expected to hurt Kimberly-Clark's margins.