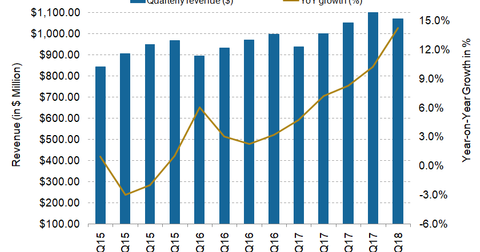 Why J.B. Hunt Transport's Intemodal Revenues Rose in 1Q18
By Samuel Prince

Updated
1Q18 Intermodal revenue
The revenue of J.B. Hunt Transport Services' (JBHT) Intermodal segment is very important. The segment contributes more than half of the company's total revenues. In the first quarter of 2018, the segment's revenue was $1.1 billion, up 14.2% from 1Q17. The segmental revenue was 55% of the company's total revenue in 1Q18, down 2% from 57% in the first quarter of 2017.
The above chart shows that Intermodal revenue for JBHT has been growing YoY (year-over-year) for the last ten quarters. In fact, the segment's growth was the highest in 1Q18 for the last ten quarters. The Intermodal segment remains a jewel in J.B. Hunt's crown.
Article continues below advertisement
Why the revenue rose
J.B. Hunt Transport Services' Intermodal load volumes rose 6% in 1Q18 compared to the same period last year. Its transcontinental loads rose 2%, and its Eastern network load volume soared 12% YoY. Overall, Intermodal's 14% revenue rise denotes a 6% volume growth and an 8% rise in revenue per load.
The change in revenue per load is determined by the combination of fuel surcharges, customer rates, and freight volume mix. Excluding the impact of fuel surcharge revenue, the Intermodal segment's revenue per load rose 4% in the first quarter of 2018 compared to the same quarter the previous year.
Peer group's intermodal segment revenue
CSX (CSX) has already reported its 1Q18 earnings. Its intermodal revenue grew 3% to $449 million from $434 million in 1Q17. Marten Transport (MRTN) and Werner Enterprises (WERN) are reporting their 1Q18 earnings on April 19, 2018. Major railroads Norfolk Southern (NSC) and Union Pacific (UNP) have scheduled their 1Q18 earnings releases for April 25 and April 26, respectively.
Next, we'll evaluate the performance of JBHT's Dedicated Contract Services segment.