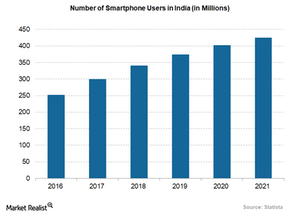 Why Is Apple Lagging in India's Smartphone Market?
By Sophia Nicholson

Apr. 9 2018, Updated 7:33 a.m. ET
Apple lags in the Indian market
According to the International Data Corporation (or IDC), India is the world's third-largest smartphone market and continues to be the biggest feature phone market globally. Therefore, Apple (AAPL) is looking to capture India's smartphone category, though Apple's revenue growth is reportedly slowing in India's $10 billion smartphone market. In fact, as per CNBC, Apple sells just 2.5% of India's smartphones.
Article continues below advertisement
Apple is expensive for Indian markets
Apple has been making efforts for several years to capture a more significant share of the smartphone market in India. However, Apple has been facing two critical problems in India. First, Apple iPhones are expensive. Second, Apple's core services such as Apple Maps and Siri haven't gotten a good response from Indian audiences.
Apple's iPhones are expensive, but they become even more costly in India, as phones in India are sold without any partnership deals with a telecom operator. On the other hand, except India, Apple sells its expensive iPhones to customers through partnerships with telecom carriers that subsidize the costs.
Also, phones become so much more expensive in India because the local government imposes a hefty charge on imported electronics items. Recently, the Indian government has raised its tax on imported items including mobile phones and cameras to promote its "Make in India" campaign and encourage local production. The revision in taxes on the import of smartphones has made iPhone all the more expensive.
In 2017, around 300 million people in India owned a smartphone. However, the number is increasing due to the growing demand for online streaming services provided by Netflix (NFLX), Amazon Prime (AMZN), and Google's (GOOGL) YouTube, which are available on smartphones.