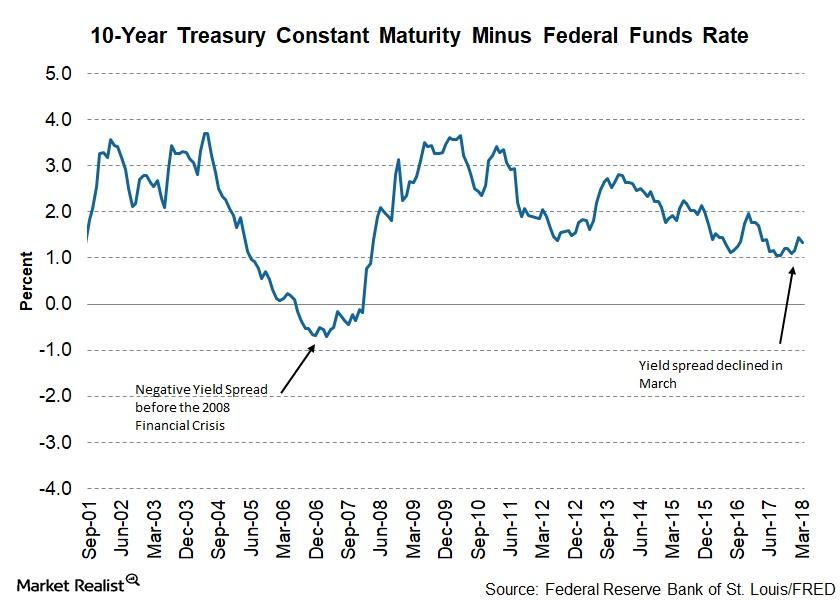 Why Interest Rate Spreads Are Decreasing Again
By Ricky Cove

Apr. 25 2018, Updated 7:34 a.m. ET
Yield spread at a pre-recession low
The US bond markets were back in focus as the chatter about the yield curve flattening has grown louder in recent weeks. The decision of the US FOMC during its March meeting to increase the Fed funds rate by 0.25% had an uneven impact on the yield curve. The short-term yields (SHY) have increased by 25 basis points, but the long-term yield has declined, giving rise to fears of the yield curve flattening. 
Article continues below advertisement
Demand for bonds during the recent market volatility depressed the long-term (TLT) yields which stayed under pressure, despite an uptick in core inflation (TIP) in March. The slope of the bond market yield curve is used as a forward indicator. An inverted yield curve is a solid indicator for future recessions and is included in the Leading Economic Index.
Yield spreads used in the Conference Board LEI
The Conference Board Leading Economic Index's (or LEI) economic model uses the yield spread between the ten-year Treasury bond (IEF) and the federal funds rate (TBF) as one of the components. The March LEI report indicated that this yield spread has decreased from ~1.4 in February to ~1.3 in March.
This credit spread has a weight of 11.0% on the leading economic index and in the March LEI report, the yield spread had a net positive impact of 15.0%. Only an inverted yield curve would have a negative impact on the LEI.
The outlook for the yield spread
The changes to the summary of the economic projection made in the March FOMC meeting appear to indicate that the Fed could be on course for two or three more hikes in 2018 and three hikes in 2019 and 2020. In April, the yield spread has declined to the lowest level since the Great Recession and could decline further if inflation doesn't accelerate. 
Several FOMC members, including Fed Chair Jerome Powell, questioned the validity of the yield curve in the current environment where interest rates are low and QE (quantitative easing) programs have depressed long-term yields. 
In the final part of this series, we'll analyze the continued increase in consumer expectations in March.