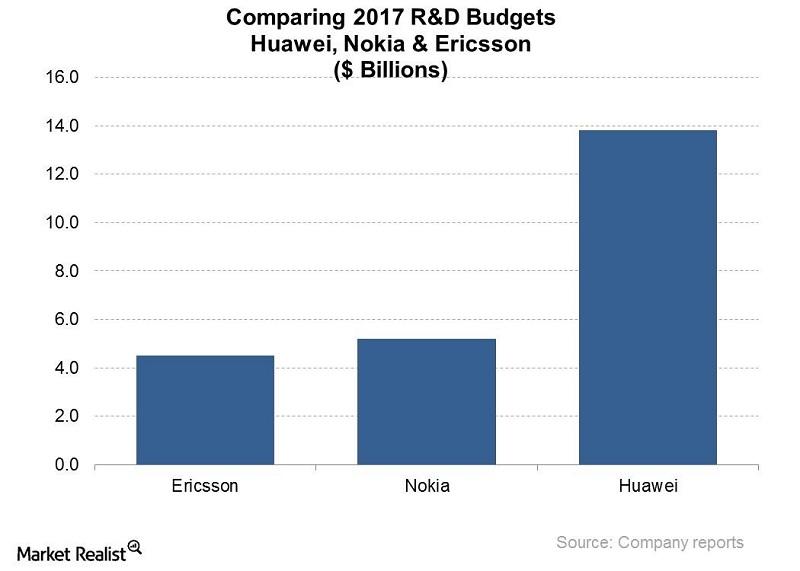 Why Huawei Is Growing Faster Than Nokia and Ericsson
By Ruchi Gupta

May. 1 2018, Updated 7:31 a.m. ET
Huawei invested $13.8 billion in R&D
While Nokia (NOK) and Ericsson (ERIC) reported falling sales in 2017, Huawei registered double-digit revenue growth. Could a bigger R&D (research and development) budget be giving Huawei an edge in its competition with Nokia and Ericsson?
Huawei dwarfed Nokia and Ericsson for R&D spending in 2017, according to LightReading. The company invested about $13.8 billion in R&D in 2017, more than doubling Nokia's $5.2 billion R&D budget for the same period. Ericsson's R&D spending was $4.5 billion.
Baidu (BIDU), China's leading online search provider, is also a big spender on R&D, which accounts for about 15% of its annual revenues. Its Revenue grew 29% year-over-year in 4Q17 compared to 24% for Google parent Alphabet (GOOGL).
Article continues below advertisement
R&D spending could hit $20 billion annually
Huawei, a Chinese technology company with wide-ranging business interests, is looking to invest $10 billion–$20 billion in R&D this year. In addition to supplying mobile operators with network equipment, Huawei is also into smartphones and semiconductors. Huawei was the world's third-largest smartphone vendor in 2017, boasting a 9.8% share of the global market compared to Apple's 14% and Samsung's (SSNLF) 20.9%, according to Gartner.
Huawei is hoping to launch a 5G[1. fifth-generation]-ready smartphone for the consumer market before the end of the year. Qualcomm (QCOM), a leading mobile chip supplier, expects 5G-ready consumer smartphones to start arriving next year.
Revenue grew 15.7% at Huawei
Revenue grew 15.7% to $96 billion for Huawei in 2017. Revenue declined 2% for Nokia, while Ericsson reported a 10% fall in revenue for the same year.