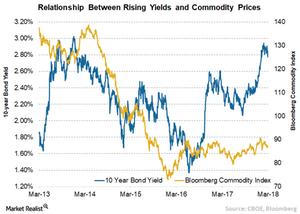 Why Commodities Outperform during Rate Hike Cycles
By VanEck

Updated
VanEck
Commodities and interest rates both tend to rise late in the economic/business cycle. As a normal cycle develops, the economy expands and gains momentum. Demand for commodities also begins to outpace production and existing supply. The Fed generally responds to this economic momentum by raising rates as inflationary expectations begin to rise. The objective is to extend the economic cycle by keeping interest rates at a level that allows the economy to operate at full employment while maintaining its predetermined inflation target (2% in the current cycle). This is why when you look back at prior expansionary economic cycles, commodities tend to rise as the central bank raises rates.
Article continues below advertisement
Market Realist
Look back at prior expansionary cycles
The ten-year Treasury yield is one of the best measures for projecting the direction of commodity (DBC)(GSG) prices because of the strong correlation between the two. Rising yields generally reflect a stronger economy and higher consumer confidence. To meet rising demand, businesses ramp up their capital expenditure and strengthen inventories.
The ten-year bond yield rose from 2.06% in mid-September to 2.80% currently. Bond yields are expected to rise further due to higher inflation expectations. The expectation of a further hike in interest rates indicates that commodities have more room on the upside.
Research from William O'Neil & Co. showed that higher returns could be generated by investing in commodity-related companies not only during periods of rate increases but also during the six months before the beginning of rate hike cycle. William O'Neil & Co. compared the returns from the S&P 500 Index (SPY), the Dow Jones Industrial Average (DIA), the NASDAQ Composite (QQQ), and sectors like retail, technology, and utilities over four decades during rising interest rate scenarios. In every cycle of interest rate hikes, the firm found that the energy and basic materials sectors outperformed by a wide margin.