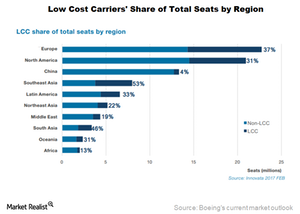 Why China Is an Important Market for Boeing's Global Reach
By Samuel Prince

Apr. 5 2018, Updated 2:15 p.m. ET
Boeing's views on the Chinese aviation market
In the first week of September 2017, Boeing (BA) came up with its estimate on the Chinese aviation market (IYT) for the next 20 years. It forecast that Chinese airline companies will spend $1.1 trillion to purchase 7,240 new airplanes by 2037. Boeing's September estimate for China refers to a 6% rise from its prediction in 2016.
Article continues below advertisement
Boeing on emerging market economies
In its current market outlook for 2017–2036 released on February 22, 2018, Boeing stated, "Economic and income growth in large emerging markets such as China and India have been a primary driver of global GDP growth and also demand for air travel. China has contributed significantly to world traffic growth for several years, as its passenger growth has increased at an average rate of more than 10 percent per year."
The company further stated, "India's emergence as a high-growth economy has produced more than 20 percent passenger traffic growth per year in its domestic market. India is expected to become the third largest commercial aviation market by the early 2020s. The middle class in China and India grew from 80 million in 2000 to 135 million in 2016, an increase of nearly 70 percent."
Chinese air traffic estimates
The company noted that China's air traffic market has recently grown 7.6% annually. The country's aviation (JBLU) market is anticipated to be the largest commercial aviation (LUV) market out of the United States over the next 20 years. The Chinese domestic aviation (DAL) market is expected to grow at an average annual rate of 9%, and single-aisle aircraft are expected to have the lion's share. Single-aisle airplanes such as the Boeing 717, 737, and 757 models will account for 77% of the aircraft delivered to the Chinese domestic market, representing 1,200 aircraft.
According to Boeing, the 20-year GDP projection for China for an average yearly rise is 5.9%, the highest in the world. China's fleet is anticipated to rise more than threefold in the next 20 years. The country's total fleet size is estimated at 2,320 units in 2021, compared with 636 in 2001.