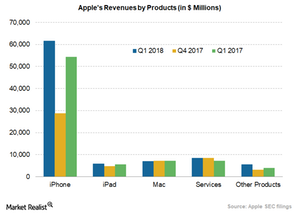 Why Apple Might Replace Qualcomm with Intel Chips in iPhones
By Sophia Nicholson

Apr. 16 2018, Updated 7:32 a.m. ET
Qualcomm might not continue to supply chips
Apple (AAPL) has plans to replace Qualcomm (QCOM) as its modem chips supplier for its upcoming iPhones, according to analyst Ming-Chi Kuo of KGI Securities and reported in 9to5Mac. Apple is instead planning to use wireless chips from Intel (INTC) exclusively for its upcoming iPhone models, which are expected to launch this year.
Article continues below advertisement
Apple to use Intel chips
Qualcomm chips are used in high-end smartphones such as Samsung's (SSNLF) Galaxy, and Google's (GOOGL) Pixel. Apple has been using Qualcomm wireless or cellular chips for its iPhones until last year when the relationship between Apple and Qualcomm soured after Apple accused Qualcomm of overcharging for its chips. Apple then refused to pay Qualcomm a rebate of about $1 billion. Since then, Apple has been looking for another supplier to offset the higher input costs of its iPhones.
According to analysts at KGI Securities, Intel's modem chips are not only cheaper than Qualcomm's but also Apple's. According to Reuters, citing Nomura analyst Romit Shah, Apple is expected to save more than $100 million in the next iPhone cycle by moving to less expensive Intel modem chips.
Intel started supplying modem chips to Apple on the release of its iPhone 7 in September 2016. Analysts also anticipate that Apple could source all its thin modems from Intel, which is currently supplied by Qualcomm, according to Nomura's brokerage firm Instinet.
However, according to some sector analysts, iPhones with Qualcomm chips have performed better than models running on Intel chips. Also, Intel might not be able to offer 5G (fifth-generation) services that are as good as Qualcomm's networking. So there might be a chance that Apple could return to Qualcomm chips, although everything is uncertain at the moment.