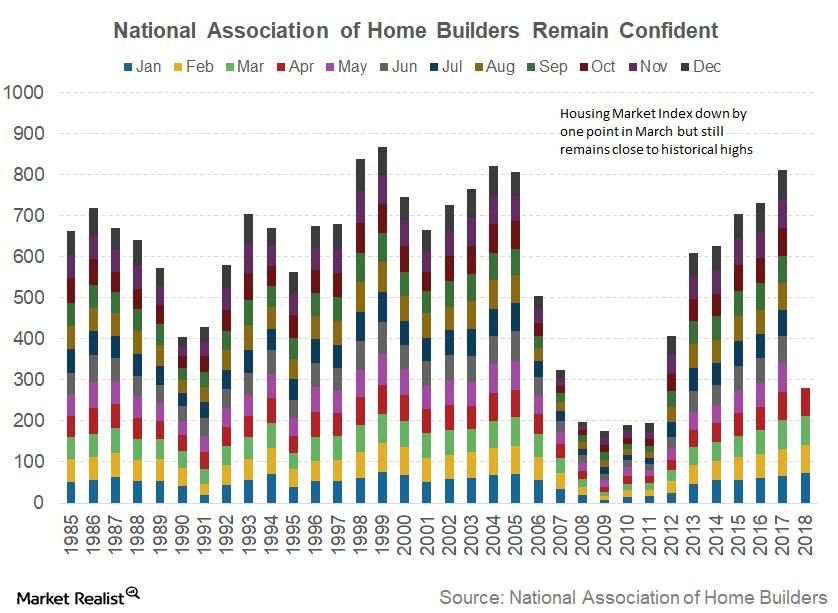 Why American Builders' Confidence Fell 1 Point in March
About the NAHB housing market index
The National Association of Home Builders (or NAHB) is an association of 700 state and local associations of homebuilders (REM), real estate sales and marketing professionals, and remodelers. The NAHB publishes a monthly report by surveying these members.
The report includes the monthly HMI (housing market index), which is constructed based on the results of the survey. The survey asks participants to rate the current conditions and expected conditions in the next six months as "good," "fair," or "poor," and it mostly relates to the single-family housing (ITB) market. Other than industry conditions, the survey also publishes the traffic of prospective buyers as "high to very high," "average," or "low to very low" for new homes.
Article continues below advertisement
NAHB HMI reading for April
The HMI was reported to have decreased by one point to 69 in April, according to the recent builder survey—still not too far from the 18-year peak of 74. The HMI is a diffusion index whose value ranges from 0 to 100 and is a weighted average of the results of three different surveys conducted by the NAHB.
The component tracking current sales conditions dropped by two points to 75, the component measuring buyer traffic held steady at 51, and the component charting sales expectations for the next six months fell by one point to 77.
The outlook from the NAHB
NAHB chair Randy Noel said that builders remain confident as employment conditions continue to improve, but they're facing increasing construction (REM) material costs and difficulties in buying buildable plots. He said that tariffs on Canadian lumber and other imported products have increased construction costs.
The chief economist of the NAHB, Robert Dietz, said that a drop in builder (PKB) confidence was likely the result of winter weather effects in some parts of the country, but the spring buying season could push the housing (XHB) market toward further gains. In the remaining articles of this series, we'll be analyzing the March economic data reported from the housing (PAVE) market.