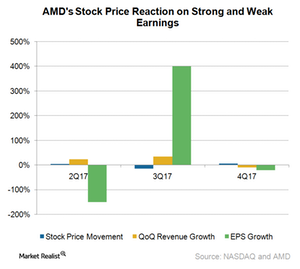 Why AMD Stock Is Slow to React to Fundamental Information
By Puja Tayal

Apr. 17 2018, Updated 7:30 a.m. ET
AMD stock slow to react
In this series, we've learned that Advanced Micro Devices (AMD) stock has been moving against the current. While the iShares PHLX Semiconductor ETF (SOXX) rose 28.7% in 2017 and has risen 1.2% YTD (year-to-date), AMD stock fell 27.6% in 2017 and has fallen 6.5% YTD.
AMD has also underperformed its rival Intel (INTC), which rose 38.5% in 2017 and has risen 6.3% YTD. AMD has been underperforming despite improvements in its fundamentals. It turned losses into profits in 2017 and even beat analysts' estimates in 4Q17.
Article continues below advertisement
This brings us to the question of why AMD's stock price movements are inconsistent with its fundamentals. The most probable explanation for the stock's slow reaction is that its stockholders already priced in strong earnings growth when the stock rose from $2 to $15 between 2016 and March 2017. The stock's valuation has made it expensive.
However, another pattern was noted in the company's stock and bond prices when it released its earnings report. Over the last two years, when the company missed revenue estimates, both its stock and bond prices fell. However, when the company beat revenue estimates, bond prices rose, but stock prices fell even more.
The reason behind AMD stock's slow reaction
Why did AMD stockholders and bondholders react differently to the revenue beats? There are two possible explanations. The first is that stock prices are affected by nonfundamental factors, which makes them react irrationally—just like they reacted irrationally to competition in cryptocurrency mining. The second explanation is that stock prices are manipulated by options traders and short sellers.
Let's look at both explanations.
Stock prices react to nonfundamental factors
AMD is one of the most shorted stocks, which probably delays its reaction to new fundamental information. Short sales and options can also be used to manipulate stocks. Experts believe that the disclosure of the security vulnerability in AMD was also used to manipulate the stock. Because of these manipulations and short sales, AMD stock could take time to react to fundamentals.
However, that's not the case for bondholders. Bonds are illiquid in nature. Hence, they're not preferred by speculators, arbitragers, and manipulators. This enables bonds to react more quickly to the most recent fundamental information.
AMD has junk bonds, which have returns similar to those of stocks because junk bondholders have similar claim orders to stockholders in the event of bankruptcy. As stocks react late to fundamental news, we can refer to bond prices to determine the future movements of stock prices.