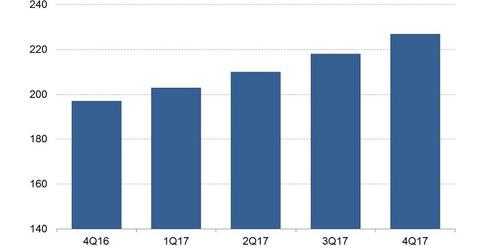 What's Making PayPal CEO Dan Schulman Optimistic?
By Neha Gupta

Updated
Digitization of cash creates business for PayPal
Digitization of cash creates business for PayPal (PYPL), an online payment processor. The company's leadership is excited about developing market consumers' growing tendency to bypass checking accounts' and credit cards' legacy payment months in favor of digital payment solutions.
"The entire financial system's ecosystem is moving, more rapidly than ever before, away from cash and towards digital payments because of the explosion of mobile phones," PayPal CEO Dan Schulman said in March in a Mad Money interview with Jim Cramer on CNBC.
Article continues below advertisement
Helping small businesses export internationally
PayPal also sees a business opportunity in the fact that only 5.0% of small businesses in North America currently export internationally, whereas 80% of US small businesses on its platform export internationally. Therefore, PayPal sees the opportunity to leverage its global reach to attract more small businesses to its platform and reach overseas customers.
Partnering with big merchants
While Amazon's (AMZN) payment business has been largely elusive for PayPal, the company has been able to convince Chinese Internet and e-commerce giants to bring their businesses to its platform. Its partnership with China's top search engine provider, Baidu (BIDU), enables Chinese consumers to buy from global merchants on PayPal, and its partnership with Alibaba (BABA) enables PayPal's international users to buy from Chinese vendors.
PayPal closed 4Q17 with 227 million active users, with over 200 million of them being consumers. PayPal will stop being eBay's (EBAY) primary payment provider in the next few years, which could free it to get more involved in e-commerce.
PayPal stock slipped 7.0% in the week ended March 23, following the broader market. The NASDAQ fell 6.5%.