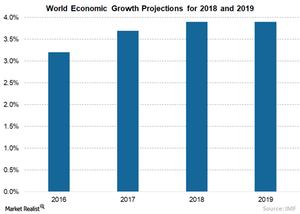 What's Driving the Rally in Commodities?
By VanEck

Updated
VanEck
KEMMERER: Roland, coming to you. Why do you think that this fund is really well positioned now? And why should investors be considering real assets in their portfolio?
ROLAND MORRIS: We're excited about this because of where we see ourselves in this particular cycle. When you think about where we are in the commodity cycle right now, we have a situation where we have global growth improving, we have a dollar that's been weakening recently, and we have supply dynamics in the commodity markets which are back in balance. And markets are starting to tighten. As this global economy continues its momentum and its growth, we're starting to get to the point where we're consuming more commodities than we're producing, and that are available to the marketplace. We're really, in my opinion, in a situation where all the headwinds that had hurt commodity markets over the last several years have become tailwinds. To me this is a great opportunity to consider and on top of all that, it is a sector that typically gives you a defense against inflation.
Article continues below advertisement
The U.S. economy is actually almost at capacity. We're basically at full employment, and we've added some stimulus recently with tax reform and tax cuts, and deregulation – which has been a theme since this new administration came in. Then, on top of all that, we have an expansionary budget that was just passed. All of these things to us at VanEck set the stage for potentially some inflationary pressures building. And global growth has been very strong, which is an important ingredient driving commodity demand. So we're excited about bringing this product to the market, because we think the time is great and we think it's an exposure that investors are going to seek out.
Market Realist
Broad-based global growth
The global economy is showing solid broad-based momentum. According to the IMF (International Monetary Fund), the world economy grew 3.8% in 2017—the fastest growth since 2011. The IMF expects global growth to edge up to 3.9% in both 2018 and 2019, mainly driven by a rebound in capital spending, manufacturing, and trade activities.
Article continues below advertisement
Driving up commodities
Threats of a trade war and synchronized global economic growth have sent commodities (GSG)(PDBC) sharply higher in recent months. The CRB Commodity Index has risen 14.3% over the past 12 months, and it's at a peak we haven't seen since September 2014. The PowerShares DB Commodity Index Tracking Fund (DBC) is up about 16% in the last year. Emerging markets that depend on commodity exports benefit substantially from commodity prices firming up.
Commodities (DJP)(USCI) generally do well during rising interest rate scenarios. While the Federal Reserve already enacted one rate hike in March 2018, markets expect at least two more hikes this year. The Fed has also forecasted steeper rate hikes in 2019 and 2020 due to an improving economic outlook.
Plus, the weak US dollar since the start of 2017 has highly supported commodities.