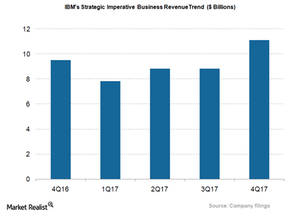 What's Driving IBM's Strategic Imperative Business?
Factors influencing growth
IT giant International Business Machines (IBM) maintained strong double-digit growth in its Strategic Imperatives business, buoyed by strong growth in its cloud and security businesses.
The Strategic Imperatives business, which is composed of its cloud, analytics, mobility, and security units, contributed ~46.0% to the company's overall revenues. Growing demand for public, private, and hybrid cloud across a variety of enterprises, coupled with the ongoing digital transition trend, boosts IBM's cloud business. Growing threats from cyberterrorism have increased demand for its security business.
The graph above shows the revenue trend for IBM's Strategic Imperatives business in the last five quarters. During the period, its cloud revenues grew at a CAGR (compound annual growth rate) of 4.0%.
Article continues below advertisement
Financial analysis
In 4Q17, the revenue from the Strategic Imperatives business came in at nearly $11.1 billion, an increase of 16.8% YoY (year-over-year). Similarly, in 4Q17, cloud revenues climbed 31.0% YoY to $5.5 billion. Revenues from its analytics unit improved 8.9% YoY to $6.1 billion. In the last five quarters, cloud and analytics revenues grew at CAGRs of 7.0% and 2.2%, respectively.
In 4Q17, the revenues from IBM's mobile and security units increased 18.2% and 150.0%, respectively. In the last five quarters, it grew at CAGRs of 4.3% and 25.7%, respectively.
Amazon's (AMZN) AWS cloud platform, which dominates the overall cloud industry, reported $5.1 billion in revenues in fiscal 4Q17. Microsoft's (MSFT) cloud revenues in its latest quarter (fiscal 2Q18) came in at $5.3 billion.