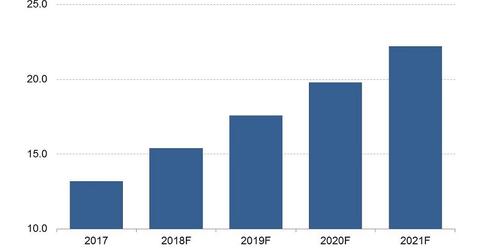 What You Need to Know about Twitter's Niche Unit
By Ruchi Gupta

Updated
Niche acquisition reportedly cost $30 million
Founded in 2013, Niche was previously an independent start-up helping social media stars engage, thrive, and monetize. Twitter (TWTR) came to own it through an acquisition in February 2015. The financial terms of the deal weren't disclosed, but it's speculated that Twitter may have paid more than $30 million for Niche.
At the time of the acquisition, Niche was managing more than 6,000 social media celebrities. Niche considers itself the one-stop shop for brands looking to connect with influencers to augment their traditional marketing initiatives.
Article continues below advertisement
Tapping into the influencer marketing trend
Niche positions Twitter to tap into the growing popularity of influencer marketing, which could help it attract more advertising to its platform. Besides plugging into the influencer marketing trend, Niche stars supply valuable content that drives user engagement on Twitter and can be monetized through advertising.
Social media companies such as Twitter, Facebook (FB), and Snap (SNAP) are embracing videos on their platforms as a way to attract television advertising funds. That makes their expenses go up because they are paying for high-quality videos. By using Niche for brands willing to pay for their influence, Twitter could empower them to create more and higher-quality content to share on its platform, which could help Twitter lower its content expense.
Competition for high-quality digital videos is stiff, with Netflix (NFLX) and Amazon (AMZN) spending big on video acquisitions.
Niche hit by leadership outflow
Twitter's Niche has been through leadership changes in recent months. Kristen Lachtman, head of Niche, is leaving, according to Recode. Her exit comes less than a year after replacing her husband, Darren Lachtman, as the head of the company.