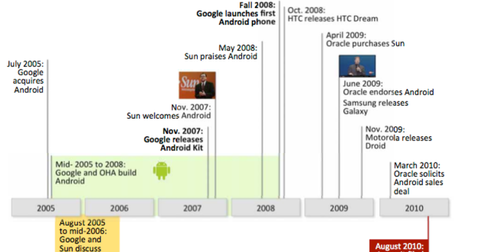 What Oracle's Lawsuit Win against Google Means for Software Industry
By Anne Shields

Apr. 5 2018, Published 3:09 p.m. ET
Oracle-Google copyright issue will likely change the usage of APIs
Earlier in the series, we briefly discussed the long-standing copyright case that Oracle (ORCL) recently won against Google (GOOG) for using Java API (application programming interfaces) to develop its core mobile Android OS. The Oracle-Google case raises issues critical to the technology world. The discord focuses primarily on how software players and developers use APIs. An API is a web technology that allows programs, apps, or websites to share information or features. APIs are also preferred by developers, as they reduce the expense and time required to write fresh code.
Article continues below advertisement
According to a recent report by the Wall Street Journal, APIs have enabled interoperability among technologies as noted by Microsoft (MSFT), Hewlett Packard Enterprise (HPE), and Red Hat (RHT) in support of Google. Those companies argued that there is a "settled understanding" about what can be construed as fair use in the software sector, and any change "would have a profoundly destabilizing effect on the entire industry."
Factors that went against Google in the copyright case
Until July, there was a lack of consensus among the jury about whether Google's use of APIs can be considered under the "fair use" clause "which permits copying under limited circumstances." Google responded to this copyright issue saying that "the Java Language is free and open."
Though the court recognized that the fair-use legal maxim does protect and allow some copying in certain circumstances, some factors went against Google. The court said, Google's utilization of Oracle's APIs was "overwhelmingly commercial" and had a "substantially adverse" impact on the latter's prospective plans to license Java in mobiles and smartphones.