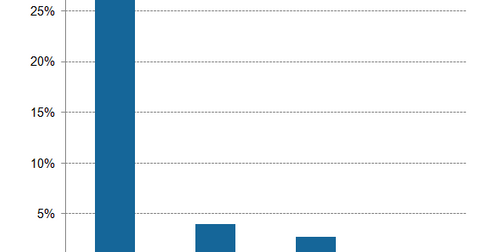 What Foxconn's Earnings Say about Apple's Growth
By Sanmit Amin

Apr. 4 2018, Published 7:31 a.m. ET
Foxconn's 2017 earnings declined for the first time since 2008
Tech giant Apple's (AAPL) assembly associate Hon Hai (or Foxconn) reported a net profit of 71.7 billion new Taiwan dollars, or $2.5 billion, in 4Q17, which represents growth of 4.2% from the corresponding quarter last year. Its revenue rose 23% YoY to $1.7 trillion new Taiwan dollars. However, in the full-year 2017, Foxconn reported a 7% decline in net profit from the previous year.
The Taiwanese company's fortune is closely tied with that of Apple. The leading iPhone assembler generates a big chunk of its revenues from Apple's iPhone. Thus, Foxconn's revenue fell 19.0% YoY as Apple's sales fell 7.7% YoY in fiscal 2016. This is because Apple saw its first decline in annual iPhone sales in 2016.
Foxconn is Apple's preferred contractor given the Taiwanese company's vast experience and its ability to produce large volumes at reduced costs.
Article continues below advertisement
Why Apple's stock has been moving sideways
The full-year decline in Foxconn's profit was due to declines in the global smartphone market and iPhone sales in the quarter ending in December, as well as the company's razor-thin margins given Apple's massive negotiation power.
Apple's stock has fallen 1.0% in the last three months as worries of slowing smartphone demand in general and the high $1,000 price tag of the iPhone X has gotten investors worried about the company's direction. Apple is looking to diversify its business away from iPhones.