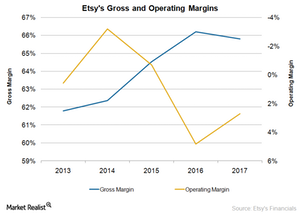 What Are Etsy's Margin Projections for 2018?
By Victoria Dean

Updated
Fiscal 2018 margin estimates
For 2018, Etsy (ETSY) expects the adjusted EBITDA margin to be in the range of 20% to 22%. The company achieved annualized cost savings of nearly $35 million in 2017. Going forward, Etsy is also cutting down $4 million to $5 million in capital expenditure related to data center maintenance by migrating to the cloud. Overall, the cloud migration is estimated to cost the company around $10 million to $15 million in 2018.
For 2017, the company had reported adjusted EBITDA of $80 million up 40.1% from 2016 driven by increases in revenue. The operational efficiency achieved also aided EBITDA growth.
Article continues below advertisement
Etsy reported a 40-basis-point contraction in gross margin to 65.8% due to the higher cost of revenue. Operating expenses were up 24.2% to $278.4 million due to higher marketing, product development, and general and administrative expenses. However, the operating expense rate increased 170 basis points to 63.1% of total revenue in 2017.
Consequently, operating profit fell 32.3% to $11.9 million, while operating margin contracted 210 basis points to 2.7%. Going forward, as the company expects to ramp up marketing efforts, operating expenses will continue to swell, thereby keeping operating margin performance under pressure.
How are the peers' margin numbers?
For 2017, Shopify (SHOP) reported a gross margin of 56.5%, up from 53.8% reported in 2016 primarily due to higher revenue. On the other hand, operating loss of $49.2 million widened compared with an operating loss of $37.2 million in 2016. The operating losses ballooned primarily due to a rise in operating expenses. For 2018, Shopify expects operating loss in the range of $95 million to $105 million.
For 2017, eBay (EBAY) reported a gross margin of 76.8%, down 80 basis points from 2016 mainly due to the higher cost of revenue. Operating margin was 23.7%, down 220 basis points on a YoY basis primarily due to higher expenses. The company's operating margin in 2018 is expected to be down 40 basis points to 27% to 29%. The primary factor is the adoption of the new accounting standard.