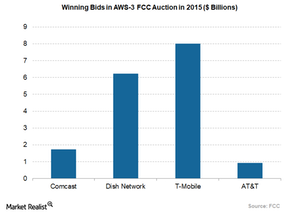 Verizon and Its Long-Term Evolution Tests for Band 66
By Sophia Nicholson

Apr. 4 2018, Published 4:20 p.m. ET
Verizon seeks FCC nod for LTE tests 
Verizon (VZ) is seeking permission from the FCC (Federal Communications Commission) to conduct tests of its LTE (Long-Term Evolution) equipment using AWS-3 (Advanced Wireless Servies-3) spectrum Band 66 radio frequency.
Although many handsets support Band 66, Verizon and its partners are conducting tests to check handset capability when using LTE technologies in Band 66 radio frequency.
Article continues below advertisement
Band 66 tests 
Verizon has requested that the FCC allow it to conduct field tests from March 19 to May 31, 2018, using Ericsson's (ERIC) single-base station and LG's mobile units in a highly controlled environment in Greenville, South Carolina. Verizon also plans to check the signal transmission in an unclaimed frequency block—AWS-3 G-block within the 2155–2160 MHz (megahertz) band. However, Verizon said there would be no uplink transmissions on the handsets in the AWS-3 G-block or 1755–1760 MHz band.
Verizon on 5G
Verizon was the first carrier company to deploy a 4G (fourth-generation) LTE network nationwide six years ago. The telecommunications company is now heading toward launching its 5G (fifth-generation) fixed wireless broadband Internet service. The company has made several trials in the US markets in 2017. It plans to launch 5G broadband services in three to five US markets in the second half of 2018. The company is initially targeting residential markets, with the first 5G facility to be deployed in Sacramento, California.
Verizon gained 181 licenses in the AWS-3 auction in 2015 and acquired spectrum worth $10.4 billion. AT&T (T) was the highest bidder of the spectrum, buying it for $18.2 billion. T-Mobile (TMUS) acquired spectrum worth $1.8 billion, as you can see in the above graph.