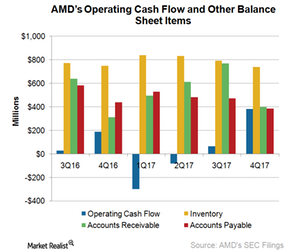 Understanding AMD's Cash Flow Seasonality
By Puja Tayal

Apr. 17 2018, Updated 2:31 p.m. ET
Cash flow seasonality
Advanced Micro Devices (AMD) is preparing for another year of strong product launches with its second-generation Ryzen CPUs (central processing unit) in the pipeline. We've learned that AMD is a seasonal company, and as per its new accounting standards, its seasonally strong quarters will be the first and fourth quarters.
Like its revenue, AMD's cash flow is also seasonal. It's the highest in the third and fourth quarters and the lowest in the first quarter. NVIDIA (NVDA) and Intel (INTC) are similar.
Article continues below advertisement
Will AMD's cash flow remain positive throughout 2018?
In AMD's case, its operating cash flow turned negative in the first and second quarters as it struggled to make ends meet. Now that the company has returned to profit, it expects to post positive operating cash flow in 1Q18 despite higher estimated revenue and operating profit. AMD and NVIDIA stock up on inventory in their first quarters as they prepare to launch new products in March or April.
Inventory
AMD increased its inventory 11.7% sequentially to $839 million in 1Q17. The company is also likely to increase its inventory in the double-digits in 1Q18 as it prepares to launch its second-generation Ryzen CPUs.
Hence, 1H18 is expected to be a capital-intensive period for AMD and NVIDIA, and 2H18 is when they will likely cash out on their invested capital.
Article continues below advertisement
Accounts receivable/payable
An increase in inventory in the first quarter would also increase AMD's accounts payable, which the company would gradually reduce in the next three quarters. Similarly, the company's accounts receivable start increasing in the first quarter and peak in the third quarter as it starts receiving orders from OEMs (original equipment manufacturer). Most of these receivables clear out in the fourth quarter.
AMD's payables and receivables are at their lowest in the fourth quarter, and that's when its cash flow is at its peak, as most of its dues have been received and paid.
AMD's receivables peaked at $771 million in 3Q17 and then fell to $400 million in 4Q17, because of which its operating cash flow rose from $66 million to $383 million. Its receivables are expected to increase slightly in 1Q18 as it supplies GPUs (graphics processing unit) to Intel, which might pay sometime in 2Q18.
Free cash flow
AMD aims to report positive FCF (free cash flow) in 2018. FCF is the cash flow a company achieves after deducting capital expenditure. It's also reflective of the cash flow available to shareholders. As AMD barely had positive FCF, it did not pay dividends or buy back shares. All its FCF—if any—went into cash reserves, which are used by the company to invest in future growth opportunities.
Now that AMD has achieved positive FCF, it aims to strengthen its balance sheet by increasing its cash reserves and repaying debt. Next, we'll see what AMD's plan to strengthen its balance sheet is.