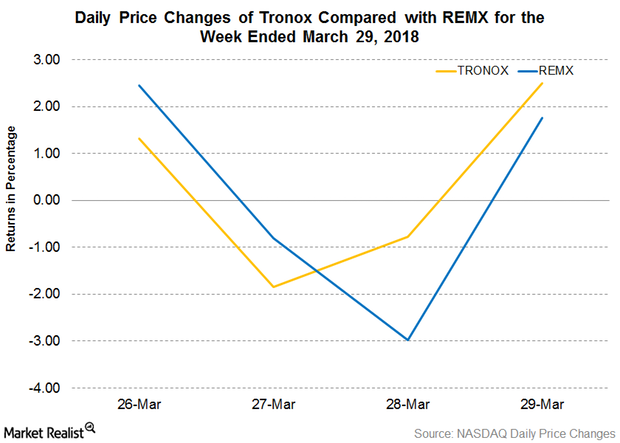 Tronox Plans to Raise $615 Million through Senior Notes
By Peter Neil

Apr. 2 2018, Updated 11:25 a.m. ET
Tronox to raise funds through senior notes
On March 27, 2018, Tronox (TROX) announced that it completed the pricing of $615 million in senior notes with a coupon rate of 6.5%. The offer is targeted mainly for qualified institutional buyers. The offer is expected to be closed on April 6, 2018—subject to closing conditions. The interest on the new notes will be paid semi-annually. The proceeds from the offer will be used to redeem the outstanding principal amount of ~$584 million with a coupon rate 7.5%. The notes are due in 2022.
Article continues below advertisement
At the end of 4Q17, Tronox's long-term debt stood at $3.13 billion. Issuing new notes and assuming that Tronox will redeem the notes mentioned above, it will still likely increase Tronox's overall long-term debt. However, the coupon rates on new notes are lower than the coupon rates that Tronox intends to redeem. As a result, the interest expense could come down.
Tronox's stock price
Tronox's stock price increased 1.1% and closed at $18.44 for the week ending March 29, 2018. Despite decent gains, the stock traded 13.10% below the 100-day moving average price of $21.23, which indicates prevailing weakness in the stock. On a year-to-date basis, the stock has declined 11.9%. Chemours (CC), FMC (FMC), and W.R. Grace (GRA) have declined 2.7%, 19.1%, and 12.7%, respectively. Tronox's 14-day relative strength index indicates that the stock isn't overbought or oversold.
Investors could hold Tronox indirectly by investing in the Rare Earth/Strategic Metals ETF (REMX). REMX has invested 4.8% of its portfolio in Tronox as of March 29, 2018.