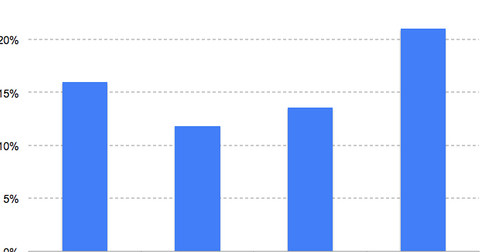 Spotify's Pre-IPO Pitch to Investors
By Sanmit Amin

Updated
Spotify expects revenues to grow 20%–30% in 2018
Music streaming giant Spotify, which went public on April 3, 2018, noted on March 26 that it expects its revenues to grow 20.0%–30.0% this year. The Swedish company also expects that it could improve its margins and reduce losses. Spotify also said it expects its paid subscribers to increase from 71.0 million at the end of 2017 to 96.0 million at the end of 2018.
The company's margins have been increasing over the years, as the graph below shows, as it has been able to leverage its size to reduce acquisition costs. Spotify thinks its gross margins can increase from 21.0% to 25.0%.
Article continues below advertisement
Spotify versus Netflix
The subscription business seems attractive on the face of it, given Netflix's (NFLX) success. However, music subscriptions have a fundamental difference from video subscriptions. While the business still has a lot of scope for growth, music streaming services must pay music labels a royalty every time the song is played. 
Meanwhile, video streaming companies like Netflix only have to pay an upfront charge to third-party content owners, after which they can stream it as they wish. As of 4Q17, Netflix had a gross margin of 35.9%, compared to Spotify's gross margin of 21.0%.