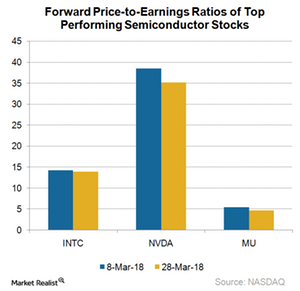 Should Fundamental Investors Worry about Recent Market Sell-Off?
By Puja Tayal

Apr. 6 2018, Updated 9:00 a.m. ET
Fundamental valuation
The recent market sell-off and the one at the start of February 2018 were caused by investors' overreaction to macroeconomic news. The ambiguity around monetary and fiscal policy changes has made investors concerned whether this may stifle growth. Thus, investors sold off stocks that do not have an attractive valuation and future growth potential and retained those with good value and strong growth potential.
Article continues below advertisement
The valuation of a stock can be found from its price ratios, which help us compare the stock price with the company's fundamentals such as earnings, sales, and cash flows to understand its true potential. Long-term investors look for stocks that are valued cheaply compared to their earnings potential. With the recent market sell-off, most of the companies with strong earnings potential have become cheaper, allowing these investors to buy at the dip.
Forward price-to-earnings ratio
A company's PE (price-to-earnings) ratio tells us the amount investors are willing to pay per dollar of EPS (earnings per share). A forward PE ratio is based on analysts' EPS estimates for the next four quarters.
At the start of 2018, Intel (INTC), NVIDIA (NVDA), and Micron (MU) were among the strong performers in the semiconductor industry. NVIDIA and Intel are enjoying double-digit earnings growth, and Micron is enjoying triple-digit earnings growth. Such strong earnings pushed these stocks up 25%, 10%, and 40% between January 2 and March 21, 2018, just before the stock market sell-off.
Declines from the sell-off reduced their forward PE ratio, making their valuation attractive. Intel's forward PE ratio fell from 14.3x on March 8, 2018, to 14.0x on March 28, 2018. Similarly, NVIDIA's forward PE ratio fell from 38.4x to 35.1x, and Micron's ratio fell from 5.4x to 4.75x.
Intel's and Micron's PE ratio is lower than the S&P 500's (SPY) forward PE ratio of 17.4x, which shows that these stocks could be a good buy, as they have the potential to grow in the future when markets stabilize. In fact, these stocks have already started to rise with Micron increasing 1.3%, NVIDIA increasing 4.6%, and Intel increasing 5% on March 29, 2018.