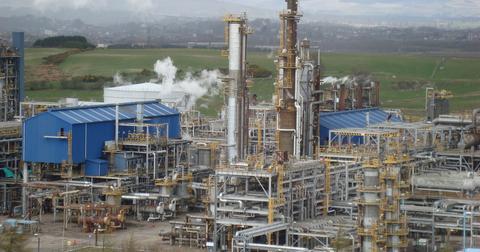 Ranking MPC, VLO, ANDV, and PSX on Earnings Expectations
By Maitali Ramkumar

Apr. 19 2018, Published 4:58 p.m. ET
Refiners' 1Q18 estimates and rankings
In this series, we'll examine refining stocks in terms of Wall Street analysts' earnings expectations for 1Q18. The four refining companies being considered are Marathon Petroleum (MPC), Andeavor (ANDV), Valero Energy (VLO), and Phillips 66 (PSX). We have ranked them based on their estimated year-over-year (or YoY) growth in earnings per share (or EPS) in 1Q18. 
We'll also review Wall Street analysts' ratings for these stocks. We'll also analyze where these stocks stand in terms of valuations before their earnings.
Article continues below advertisement
If we rank these refining stocks on their likely YoY EPS growth in 1Q18, then Marathon Petroleum (MPC) occupies the top slot. MPC is expected to post a huge rise in earnings, around 378.0% YoY growth. MPC's growth activities, as well as the completion of its strategic plan, is likely to boost its earnings steeply.
The last slot is taken by ANDV, despite the fact that it's expected to post 32.0% YoY growth in EPS. Phillips 66 (PSX) and Valero (VLO) rank second and third in terms of their expected increases in earnings in 1Q18.
Wall Street analysts expect these companies' earnings to rise because the refining margin indicators of these refiners have risen YoY in 1Q18, pointing toward improved refining earnings. The benchmark crack indicator, USGC WTI 3-2-1, posted larger cracks in 1Q18 over 1Q17. 
In 1Q18, RINs (Renewable Identification Numbers) prices have weakened compared to 4Q17. This trend could result in lower compliance expense for the refiners.
Valuations
If we consider valuations of these companies, MPC, which occupies the top slot, leads in terms of its forward price-to-earnings (or PE) multiple. ANDV, which occupies the last spot, has the lowest valuation. PSX and VLO stand second and third, respectively, in terms of valuation, similar to their rankings in terms of expected growth in earnings in 1Q18. We'll discuss valuations later in this series.
From the next part onward, we'll look at individual companies' 1Q18 estimated earnings, starting with MPC.