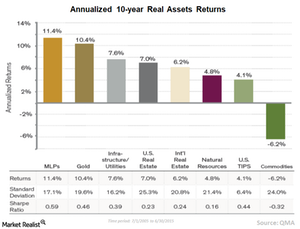 RAAX: Key Focus Areas for Long-Term Considerations
By VanEck

Apr. 24 2018, Updated 12:50 p.m. ET
VanEck
KEMMERER: Now that we understand the investment process overall, can you give us a few example sectors and how they work?
SCHASSLER: So, again, [we are] comprehensive from a real asset perspective: commodities, commodity equities, REITs, infrastructure, and MLPs, we approach each of these differently. We want to understand what makes each real asset sector tick, and then jump into it from a quantitative perspective and model that. If we're going to look at something like REITs, we're going to want to understand the strength of the housing market. We're going to want to look at things like new home sales. We're going to look at things like existing home sales. That's our approach to model building.
KEMMERER: Thank you both so much for taking the time not only to share how real assets are fairing and why it's a good time to be invested in them and how exactly this product works.
SCHASSLER: Thank you so much.
MORRIS: Thank you.
KEMMERER: And thank you for tuning in. For this and other insights from VanEck specialists, visit vaneck.com/subscribe. From New York, I'm Gillian Kemmerer.
Article continues below advertisement
Market Realist
Comprehensive industry analysis could boost portfolio returns
An investment process that comprises comprehensive industry analysis has the potential to generate higher returns. Key focus areas for long-term considerations could involve the analysis of factors like industry-specific supply and demand modeling, the consistency of cash flow generation, expected future earnings, and risk drivers. Real asset categories that tend to offer more consistent returns over time could form a core of the portfolio. And in most cases, the potential to generate sustainable returns could be due to the quality of cash flows.
The consistency of returns is the key
As the chart above shows, real assets like MLPs (AMLP), real estate (VNQ), and infrastructure (IGF) have all generated relatively consistent returns over time. Real estate companies own and operate properties like apartments (AVB), office buildings (BXP), shopping malls, and healthcare facilities. Their operations are structured such that they can generate long-term and sustainable cash flows that enhance their ability to generate attractive returns over time. On the other hand, cash flow streams for infrastructure companies often depend on long-term leases or concession agreements they signed with clients. These agreements are normally linked to inflation, offering a higher probability of consistent returns.