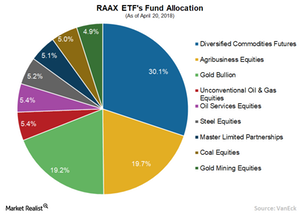 RAAX ETF Aims to Generate Long-term Total Returns
By VanEck

Apr. 24 2018, Updated 2:20 p.m. ET
VanEck
KEMMERER: Now that we understand why the macro environment is supportive, why don't you tell us a little bit about the investment process?
SCHASSLER: There are significant challenges to real asset investing; these are predominantly cyclical sectors. Our model focuses on the specific drivers for each real asset sector, as well as what the market is telling us vis-à-vis pricing. What we're doing is looking at what drives these individual real asset equities. We want to understand the supply and demand dynamics. We want to understand what the commodity prices are doing. We want to understand what the technicals are doing on the equities themselves. So, very simply, this investment process buys the individual real asset sectors that our model is bullish on, and we avoid the sectors that we're bearish on. We want to make sure that we're the most diversified that we can be, and give you the lowest volatility profile that we can. That's how we invest, and we think, altogether, this gives a very comprehensive, robust investment solution for real asset investors.
Article continues below advertisement
MORRIS: I think this process, by removing human judgment and making it systematic, you create a situation where this product can be very valuable to investors. And, again, you are also seeking to limit some of the downside by having that ability to raise cash if the market starts to run up in volatility, and all the things that Dave and his team has put together for this.
Market Realist
VanEck Vectors Real Asset Allocation ETF
Based on a comprehensive and robust investment process, the VanEck Vectors Real Asset Allocation ETF (RAAX) aims to generate long-term total returns. While trying to achieve its investment objective, the fund seeks to limit market drawdowns during adverse conditions by allocating primarily to exchange-traded products that provide exposure to real assets like commodities (DBC)(PDBC), real estate (VNQ), natural resources, and infrastructure (IGF).
Optimized allocation process
The fund seeks to ease downside risk using a rules-based approach and to accordingly determine its cash allocation strategies. Given changing market dynamics, the fund reserves the right to allocate 100% to cash during market stress.
The fund's allocation process provides exposure to segments with better return profiles while managing overall portfolio risk. As of April 20, the fund's investment was wholly allocated to stocks. At 30.1%, the largest allocation was into diversified commodities futures, followed by agribusiness equities, gold bullion, and unconventional oil and gas equities with respective exposure of 19.7%, 19.2%, and 5.4%.