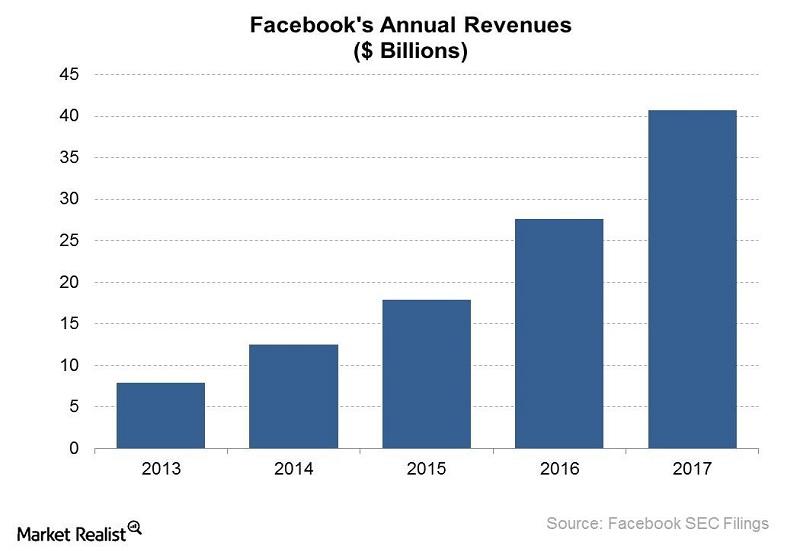 Potential Impact of Facebook Leaving the Technology Sector
By Ruchi Gupta

Apr. 19 2018, Updated 2:05 p.m. ET
Facebook to join Verizon in the communications sector
Facebook (FB) and Google parent Alphabet (GOOGL) are set to transition out of the information technology (or IT) sector as part of industry classification changes announced by the S&P Dow Jones Indexes and the MSCI in January this year.
In changes scheduled to go into effect in September 2018, Facebook, Alphabet, and several of their current IT sector peers will be moved to the communications services sector, where they will join the likes of Verizon (VZ) and AT&T (T).
Article continues below advertisement
Telecom group being expanded and renamed
It's the current telecommunications services sector that's being expanded and renamed communications services. Twitter (TWTR) and Snap (SNAP), which are also part of the current IT sector, will also be moved to the new communications services sector. Netflix (NFLX), Comcast (CMCSA), and the Walt Disney Company (DIS), which are currently components of the consumer discretionary sector, will also transition to the communications services group.
Less risky, slower growth
Apple, Microsoft (MSFT), and Intel (INTC) will stay in the IT sector.
According to a Goldman Sachs note cited by MarketWatch, removing Facebook and Alphabet from the IT sector could result in the sector exhibiting lower growth and lower valuation, but there will also be less regulatory risk. With Facebook and Alphabet in, the current IT sector is expected to register 15% sales growth in 2018 and 7.0% growth in 2019. Without Facebook and Alphabet, the IT sector is expected to record sales growth of 9.0% in 2018 and 5.0% in 2019.
Facebook's revenue rose 47% to $40.7 billion in 2017.