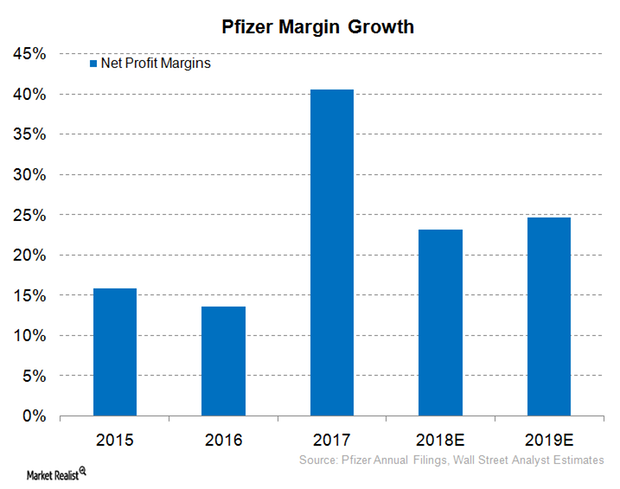 Pfizer May Witness Fall in Net Profit Margins in 2018
By Margaret Patrick

Apr. 30 2018, Updated 7:33 a.m. ET
EPS guidance for 2018
Pfizer (PFE) expects to report adjusted diluted EPS (earnings per share) of $2.90–$3 in 2018. The guidance midpoint implies a YoY (year-over-year) rise of 11%. That assumes a $0.06 per share impact due to favorable foreign currency fluctuations that would benefit from the $5 billion worth of share repurchases in 2018. However, Pfizer expects to witness $2.5 billion of negative impact due to share-based employee compensation programs.
Article continues below advertisement
Pfizer has projected adjusted cost of sales as a percentage of revenues to be 20.5%–21.5% in 2018. It also expects to see adjusted SI&A (selling, informational, and administrative) expenses of $14 billion–$15 billion, while adjusted R&D (research and development) expenses are expected to be $7.4 billion–$7.9 billion in 2018.
New product launches
Pfizer has transformed from being a company with two approved oncology drugs applicable in three indications in 2010 to one with ten approved oncology drugs applicable in 17 indications in 2017. The company expects to have 12 approved oncology drugs applicable in 20 indications in 2018, 14 approved oncology drugs applicable in 21 indications in 2019, and ten approvals from the FDA.
Originally a niche player, Pfizer has now become a leading player in the breast and prostate cancer segments, mainly due to the launch of Ibrance in 2015 and the acquisition of Medivation and the subsequent addition of Xtandi to the company's portfolio in 2016. Pfizer expects to launch these four novel oncology drugs by 2020: talazoparib in BRCA-positive breast cancer; glasdegib, an Smo (smoothened) inhibitor in acute myeloid leukemia; dacomitinib in EGFR-positive non-small cell lung cancer (or NSCLC); and lorlatinib in ALK-positive NSCLC.
In the next part, we'll look at the growth prospects for Pfizer's Ibrance in 2018.