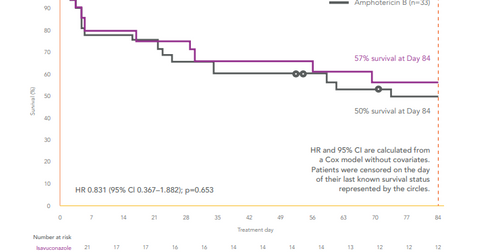 Pfizer and Basilea Pharmaceutica: Cresemba Licensing Agreement
By Kenneth Smith

Updated
Pfizer gains commercial rights for Cresemba
In December 2017, Pfizer (PFE) entered into a licensing agreement with Basilea Pharmaceutica. Under the agreement, Pfizer was granted exclusive development and commercialization rights to Cresemba in China and multiple countries in the Asia-Pacific region.
Cresemba is an antifungal medicine for treating patients with invasive aspergillosis and mucormycosis. Both infections are associated with significant morbidity and mortality among patients with compromised immunity such as HIV and cancer patients.
In July 2017, Pfizer had obtained exclusive commercialization rights to Cresemba in Europe from Basilea Pharmaceutica. Since the July agreement, Pfizer successfully launched Cresemba in Spain and expects additional launches in 2018 and beyond.
Article continues below advertisement
Invasive aspergillosis and mucormycosis
Invasive fungal diseases (or IFDs) are increasing in incidence and are associated with high morbidity and mortality in immunocompromised patients. Mortality rates associated with invasive fungal infections can be as high as 80%–90%.
Cresemba
Cresemba is an intravenous and oral azole antifungal and is the active agent of the prodrug isavuconazonium. In March 2015, the drug was approved by the FDA for treating invasive aspergillosis and invasive mucormycosis. Additionally, the drug has orphan drug designation for these indications in Europe and the U.S. In the US, the drug is commercialized by Astellas Pharma.
Basilea Pharmaceutica is developing products in the therapeutic areas of bacterial infections, fungal infections, and cancer.
In the next part of this series, we'll take a look at GlaxoSmithKline's acquisition of Novartis' consumer healthcare business.