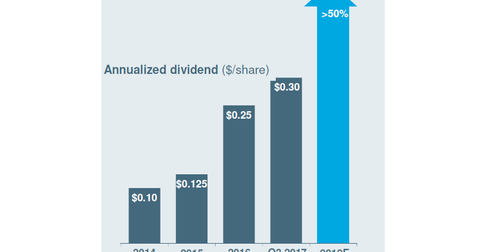 Newmont Mining and Barrick Gold: Strategies that Drive Returns
By Anuradha Garg

Updated
Barrick Gold versus Newmont Mining
We saw in the previous part of this series that the price performances of Barrick Gold (ABX) and Newmont Mining (NEM) have varied significantly in the past few years and year-to-date. While the price of precious metals impacts both miners, the strategies followed by both companies are driving this divergence.
In this article, we'll highlight the key differences between the strategies being followed by their current management.
Article continues below advertisement
Growth versus margins
While Newmont Mining has been determined to drive volumes, Barrick Gold's approach has been to focus on margins rather than ounces. During its recent investor day address, Barrick Gold's management noted that the company doesn't plan to grow just for the sake of growth.
On the other hand, Newmont Mining (NEM) appears to have a solid plan of adding ounces to its pipeline in the short term, medium term, and long term.
Driving debt reduction
While both companies have significantly slashed their respective debt levels and identify reducing debt one of their top priorities, there might be some difference in the strategies followed by these companies to pay down debt.
Newmont Mining's CEO, Gary J. Goldberg, isn't prioritizing paying debt down early. However, Barrick Gold is making every effort to reduce debt through cash flow from operations and cash on hand, as well as potentially paying down debt through further portfolio optimization.
Dividends
Newmont Mining's (NEM) policy of determining dividends also differs from Barrick Gold's policy. In 4Q16, Newmont Mining's management revised its gold-linked dividend policy, which was expected to potentially double payout levels.
Following its new policy, Newmont Mining declared dividends of $0.14 per share for 4Q17, which is 87.0% higher than in 3Q17 and is nearly triple the level reported in 4Q16. The company is viewing increasing dividends as a way to attract investors away from gold-linked ETFs (GLD)(IAU).
On the other hand, Barrick Gold (ABX) is focusing on reducing debt rather than increasing dividends as a means to attract investors. Kinross Gold (KGC), Goldcorp (GG), and Agnico Eagle Mines (AEM) also have policies similar to Barrick Gold's policies with respect to dividends.