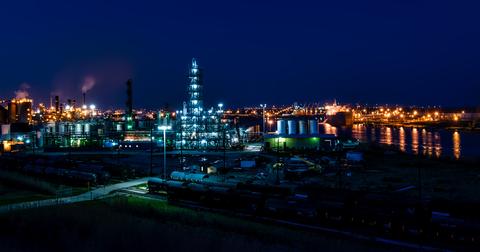 Marathon Petroleum to Acquire Andeavor: ANDV Opens 10% Higher
By Maitali Ramkumar

Updated
MPC taking over ANDV
Marathon Petroleum (MPC) and Andeavor (ANDV) entered an agreement to merge today. As per the agreement, MPC will buy all the outstanding shares of ANDV to create a huge world-class downstream company.
Article continues below advertisement
What's the deal?
Andeavor shareholders can elect to receive 1.87 shares of MPC or $152.3 in cash per ANDV share, subject to the ceiling of 15% of the equity consideration. ANDV's stock price stood at $122.4 per share on April 27, so the cash consideration represents around a 24.4% premium to that closing price. MPC would be paying around $35.6 billion, including Andeavor's debt, for around a 66% stake in the combined entity. The market caps of MPC and ANDV before the announcement stood at $39 billion and $19 billion, respectively.
The boards of directors for both companies have approved the transaction. The acquisition process is expected to close in 2H18, subject to requisite regulatory approval.
Both MPC and ANDV are strong downstream companies with vast refining and midstream assets across the United States. The combined refining capacity of the combined entity would be more than 3 million barrels per day, which would rank it first in the United States, pushing Valero Energy (VLO) to second place. The enterprise value of the combined entity would be more than $90 billion. The combined entity's board would include Greg Goff (ANDV chairman and CEO) and three other board members from ANDV.
Article continues below advertisement
The merger is likely to create synergies of around $1 billion on an annual run-rate basis within three years of the acquisition. Also, the company would create refining footprints across the United States in PADD 2, PADD 3, PADD 4, and PADD 5. Plus, it would hold attractive midstream assets across the country, including the Permian and Bakken regions, Marcellus and UTICA regions, and SCOOP/STACK regions.
Stock reaction: MPC and ANDV
Today, ANDV opened with a bang! ANDV stock opened at $134.4, around 10% higher than the previous day's close, because of the premium offered to ANDV shareholders by MPC and the market's belief that the deal will go through.
However, MPC opened at $75.5 per share, around 9% lower than the previous close. This fall could mean that the market doesn't favorably view this deal from MPC's perspective or that the market reacted negatively to MPC's 1Q18 earnings, which were released simultaneously, missing estimates.
Phillips 66 (PSX) and Valero Energy (VLO) opened 0.5% and 0.3% higher, respectively. HollyFrontier (HFC), Delek US Holdings (DK), and PBF Energy (PBF) opened 0.6%, 1.9%, and 0.5% higher, respectively.