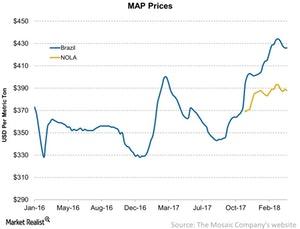 MAP Prices Were Mixed in the Week Ending March 30
By Adam Jones

Apr. 3 2018, Published 8:35 a.m. ET
MAP prices
Unlike DAP (diammonium phosphate) prices, MAP (monoammonium phosphate) prices were broadly flat to negative last week.
Article continues below advertisement
Weekly movements
In the week ending March 30, 2018, MAP prices in Brazil remained flat week-over-week at $426 per metric ton from a week ago. Compared to the levels observed in the same quarter last year, MAP prices were as much as 11% higher.
Agribusiness (MOO) activities in Brazil have remained strong for companies like Mosaic (MOS), Nutrien (NTR), Israel Chemicals (ICL), and Intrepid Potash (IPI).
In the NOLA (New Orleans) region of the US, MAP prices had negative movement week-over-week. At the NOLA location, MAP prices fell by as much as 26 basis points week-over-week to $388 per metric ton from $389 per metric ton a week ago.
MAP prices in NOLA also demonstrated strength in prices similar to what we saw in Brazil. To put it in perspective, MAP prices in the NOLA region have risen as much as 14% year-over-year.
MAP and DAP fertilizers have remained strong compared to the levels observed last year, which might indicate balancing of the supply-demand dynamic in the market.
Next, we'll discuss potash prices.