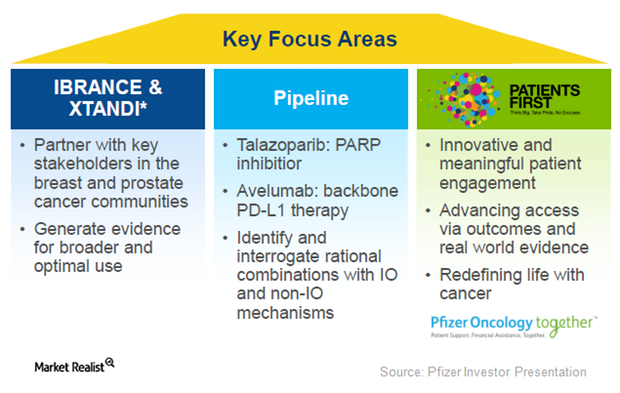 Label Expansion May Boost Pfizer's Ibrance and Xtandi
By Margaret Patrick

Apr. 27 2018, Updated 4:20 p.m. ET
Ibrance label expansion
Pfizer (PFE) is currently studying Ibrance in an HER2+ metastatic breast cancer setting as well as in an early breast cancer setting. It's studying the drug in high-risk early breast cancer patients in an ongoing Phase 3 trial, PENELOPE, while Ibrance is being evaluated in intermediate-risk early breast cancer in an ongoing Phase 3 trial, PALLAS. Pfizer is also studying Ibrance in a Phase 2 study, PALLET, as a neoadjuvant therapy for newly diagnosed breast cancer patients.
Article continues below advertisement
Pfizer expects a readout from the PALLAS trial in 3Q20, while the readout from the PENELOPE trial is expected at the end of 2020. The company expects an early breast cancer market opportunity for Ibrance to be almost twice as much as for the metastatic breast cancer setting. Ibrance competes with other CDK4/6 inhibitors such as Eli Lilly's (LLY) Verzenio and Novartis's (NVS) Kisqali in the breast cancer segment.
The above diagram highlights Pfizer's key focus areas in its oncology business.
Xtandi's growth trends
In 2017, Pfizer earned $590 million from the sale of prostate cancer drug Xtandi in the United States as its share of alliance revenues. In 4Q17, it earned $168 million from the sale of Xtandi in the United States, which is a YoY (year-over-year) growth of 22% and a quarter-over-quarter growth of 12%. Pfizer jointly commercializes the drug in the United States with Astellas Pharma.
At the end of 2017, around 1,700 urologists were prescribing Xtandi, which is significantly higher than the 500 urologists who are prescribing Johnson & Johnson's (JNJ) Zytiga.
Xtandi is approved by the FDA in late-stage castration-resistant prostate cancer (or CRPC) that has recurred or spread to other parts of the body despite previous medical or surgical treatment. In September 2017, the company announced favorable results from its Phase 3 trial PROSPER, where Xtandi was evaluated in non-metastatic CRPC.
On March 19, the FDA accepted Pfizer's supplemental NDA (New Drug Application) for Xtandi in non-metastatic CRPC and has granted it priority review designation. The FDA has also assigned the prescription drug user fee act (or PDUFA) date for the sNDA in July 2018.