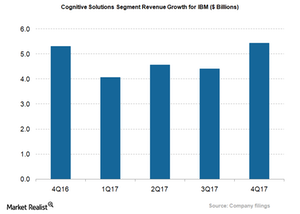 Key Growth Components of IBM's Cognitive Solutions
By Aaron Hemsworth

Apr. 20 2018, Updated 11:10 a.m. ET
Evaluating the growth drivers
International Business Machines' (IBM) Cognitive Solutions segment contributes ~23.0% to the company's overall business. This segment enhances its business unit by adding innovative products to its portfolio.
The increasing dominance of the Watson AI (artificial intelligence) platform in the health and financial industries drives the Solutions Software unit of the Cognitive Solutions segment. Increased usage of data in these industries helped boost the company's analytics performance. IBM's DB2 technology is built on IBM Power and its software-as-a-service business intelligence offerings, including Cognos Analytics.
IBM's security products, including QRadar and Resilient on Cloud, may gain momentum buoyed by the implementation of GDPR (General Data Protection Regulation) compliance in Europe.
Blockchain is another important catalyst for IBM's Cognitive Solutions segment, enhancing cross-border payments in financial services, supply chains in retail, valuable goods authentication in industrials, and digital identification for governments. 
Launched in 3Q17, the blockchain platform has already gained widespread success among top industry players such as Walmart (WMT), Unilever (UL), and Kroger (KR).
Article continues below advertisement
How are the key elements driving business?
From the chart above, we can see the rising total revenue trend in the last five quarters for IBM's Cognitive Solutions segment. During the period, the segment's revenues have increased at a CAGR (compound annual growth rate) of 0.6%.
In 4Q17, segmental revenues grew 2.5% YoY (year-over-year) to $5.4 billion, triggered by security and transaction processing software. Revenues for its transaction processing software subsegment for 4Q17 increased 3.0% YoY. At the end of fiscal 2017, the total revenues for the Cognitive Solutions segment and its subsegment came in at nearly $18.5 billion.