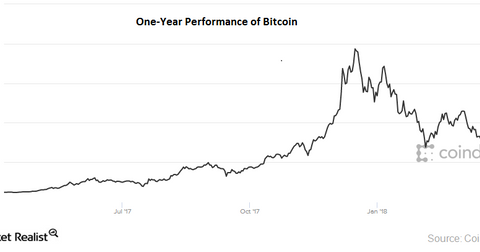 Gundlach: Bitcoin Is the Current 'Dot-Com Bubble'
By Sarah Sands

Updated
Jeffrey Gundlach on Bitcoin
In the previous part, we discussed that billionaire investor Jeffrey Gundlach is betting against the stock market due to the rising bond yield and falling Bitcoin movement.
Article continues below advertisement
Dot-com bubble
Gundlach described Bitcoin as current "dot-com bubble." In early 1999, we saw that the technology sector showed a huge boom. The boom was called as "dot-com bubble" or "tech bubble." Speculation about growth in the technology sector and Internet industry created the bubble.
In early 2002, the bubble burst and created a huge fall in major indexes' performances. The NASDAQ Composite Index (QQQ) and the broader market S&P 500 Index (SPY) fell 77% and 49%, respectively, between March 2000 and September 2002.
However, Gundlach compared Bitcoin's current movement with the dot-com bubble. Gundlach said, "It was so obvious to me that bitcoin is the dot-com of our world today, and this mania is so similar to where we were in 1999. Bitcoin very clearly leads risk assets."
He also said that Bitcoin rallied and peaked in 2017 along with equity prices. Now, Bitcoin is falling along with stock prices. Bitcoin fell 66% from its record high of $19,343 on December 16, 2017, to April 5, 2018.
Next, we'll analyze Gundlach's view on the investment year.